#BBCtrending: 'I am not a virus' say West Africans on chat apps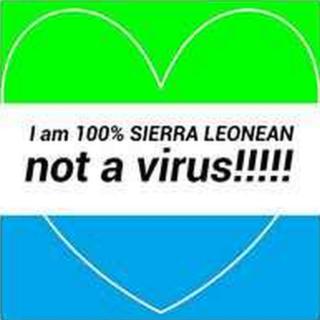 The rallying cry of "I am not a virus" - used to fight being stigmatised as having Ebola - is now gaining traction on private chat apps in West Africa.
As we've reported before on BBC Trending, people in Ebola-hit West Africa are taking their conversations "off-grid" by using private chat apps, such as WhatsApp, instead of social media networks. They do this because they fear being punished by the authorities, with official restrictions on how information about the disease can be disseminated. We have been keeping an eye on several Ebola-related chat groups in West Africa. As well as information updates, they are now being used to share a more political message: "isolate Ebola, not the country".
The movement against stigmatisation started on conventional social media networks, when four Liberian women began the "I am a Liberian, Not a Virus" campaign this month. More than 1,500 users have used the hashtag #IAmALiberianNotAVirus on Twitter, with their YouTube video having been viewed more than 17,000 times in the last week. The campaign is intended to highlight what its supporters say are instances of discrimination against Africans, for example at US airports. The social media trend has now been taken up by users of WhatsApp, the most popular chat app in Africa. Users in Sierra Leone, for example, are asking their friends to share the message against discrimination with "one foreign friend".
One widely-shared post in Sierra Leone says: "Reject me if u like; accept me if u like; return me if u like; allow me entry if u like; isolate me if u like; be there for me if u like; abandon me if u like; support me if u like; whatever u choose is your decision but don't forget this, i am a PROUD SIERRA LEONEAN with dignity and not a virus. Please share this to one foreign 'friend'." The video below, from the BBC's Focus on Africa team, features one of the most vocal voices in Sierra Leone, blogger Hannah Foullah.
You can follow BBC Trending on Twitter @BBCtrending
All our stories are at bbc.com/trending