#BBCtrending: Young Muslim Canadians - 'We are human after all'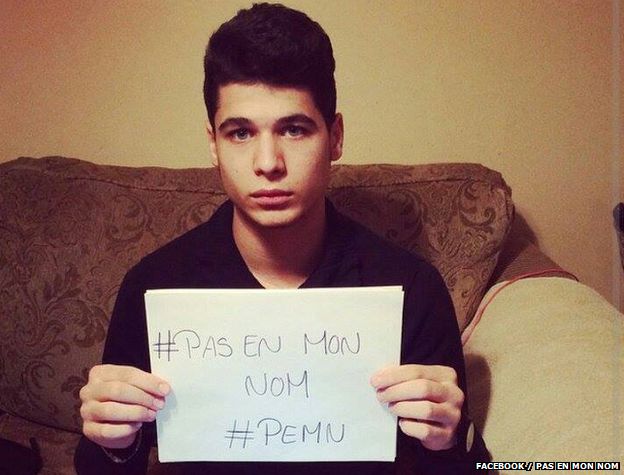 "Not in my name" is one of social media's simplest and often most powerful messages. It trended recently on Twitter in Europe, as Muslims distanced themselves from Islamic State (IS), and it's now being used on Facebook in Canada in direct response to last week's killings of two soldiers in two separate attacks.
Those actions, by recent converts to Islam, have threatened to polarise Canada. In a week that shocked the country, Warrant Officer Patrice Vincent was killed in a targeted hit-and-run, then, just two days later, Corporal Nathan Cirillo was shot dead during an attack on the National War Memorial. Police have taken steps to assure Muslim communities of their safety from reprisal attacks but, in Quebec, two teenagers took to the internet to spread their own message.
It's no coincidence that Muslims in Quebec feel compelled to speak out; both perpetrators are from the French-speaking region of the country. After a discussion about the incidents with her family, 15-year-old Nour Zirat set up the group "Not in my name Canada". She told BBC Trending she was inspired by the movement in Europe and "had to show solidarity with the rest of the world, to say this isn't acceptable." She also feels prejudice against Muslims in Canada has been present for a long time, but in her view those within the community have been too quiet. "I did this to break the silence and encourage people to express their beliefs," she says.
Ali Chebli is also from Quebec, and he set up "Pas en mon nom", a French-language version of the group. A picture of him holding up his message has since been shared more than 6,000 times, prompting many other young Muslims to follow suit. He says that prejudice towards Muslims has worsened since last week, and says it's his "duty" to show Canadians "the difference between a simple Muslim and a terrorist". He told Trending that "nobody should be associated with this type of violence". Beneath his image, Chebli said he wants to "fight against hate speech and the actions of jihadists". He then encourages others who "adhere to the religion of Islam" to "explain why they dissociate with terrorist groups", and make those with a distrust of Muslims understand that "we are human after all".
Both groups are gaining increased interest but Ali Chebli's image has had the biggest impact. It's now been 'liked' nearly 20,000 times and has led to more and more people proclaiming "Not in my name".
Reporting by Chris Hemmings.