What really happened to Jerome Jarre?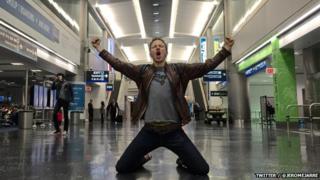 One of the internet's biggest video stars has become a top trend on US Twitter with claims he was being "arrested" on a flight. But according to the airline, that wasn't what happened.
Jerome Jarre is a superstar of online video. The Frenchman's 6-second-long prank videos are sometimes controversial but have made him the fourth most popular account on Vine, with over 7.5 million followers. He's also big on Snapchat, and has 871,000 Twitter followers. It was to this last group that he turned when his latest prank - which unfolded high in the air on an American Airlines flight - seemingly turned sour.
Jarre claims he was "arrested" after landing at Miami-Dade airport after things went wrong while he filmed a new prank video. He appealed for sympathy and for people to use the hashtag #AmericanAirlinesCHILLOUT. It has now been tweeted more than 91,000 times and quickly became the top trend in the US.
Here is what happened according to Jarre's own Twitter feed: he begins by tweeting that he's on a flight to Miami, during which he was making a video where he "comes out of the bathroom wearing a speedo & an inflatable duck". Tweeting a screenshot of his notes, he claims that everyone on the plane "loved it", all except one of the American Airlines cabin crew. "For some reason he hated the joke. He made calls and promised I would be arrested once I land." That tweet was shared more than 11,000 times.
Once Jarre's plane had landed, he then claimed that he was "about to be arrested". This tweet was accompanied by a picture of himself being photo-bombed by the inflatable duck (which looks suspiciously like a turtle), and again asking his followers to tweet #AmericanAirlinesCHILLOUT. That was retweeted 14,000 times and Jarre's message was quickly trending in America. In subsequent tweets, Jarre claims he spent "3 hours with the FBI".
BBC Trending has contacted the police at Miami-Dade airport, who confirm that Jarre was detained - but supplied no further details. The FBI have not responded to our queries.
American Airlines version of events is different to Jerome Jarre's. Although they tweeted him offering their assistance as events unfolded, they have since told BBC Trending that while Jarre was detained he was not, in fact, arrested and no charges were pursued against him. In a statement, they said "Speedos may look good at the beach, but no one wants to see them dancing in the aisle at 35,000 feet."
Online, several users have expressed doubt about Jerome Jarre's story, saying that he is a serial self-promoter. A few hours after his initial flurry of tweets, Jarre tweeted a picture of himself in the airport terminal, on his knees, claiming to be celebrating his freedom. He then thanked his followers for "saving him from a life changing ordeal". What is certain is that Jerome Jarre proved how quickly a trend can pick up pace. All you've got to do is ask.
Reporting by Chris Hemmings
You can follow BBC Trending on Twitter @BBCtrending. All our stories are at bbc.com/trending