#BBCTrending: Jian Ghomeshi abuse claims ignite debate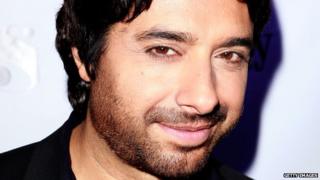 Fresh allegations that radio host Jian Ghomeshi abused women have sparked intense online discussion about sexual violence.
Jian Ghomeshi, the former presenter of the Canadian Broadcast Corporation (CBC)'s hugely popular radio show Q, has been accused of violently attacking women during sex. The Toronto Star newspaper spoke to eight women who accused Ghomeshi of behaviour, including choking and hitting them without their consent and sexual harassment in the workplace. Ghomeshi was sacked by CBC on Sunday.
The latest claims have attracted huge public interest, with over 16,000 tweets on the subject being posted within 24 hours. An initial wave of sympathy for Ghomeshi was quickly reversed as details of the allegations came out. Green Party leader Elizabeth May tweeted that his private life was "none of our beeswax" - a statement that she later retracted. While a petition demanding Ghomeshi's re-instatement attracted thousands of signatures, the Huffington Post reported that many were taking pleasure in watching in real time as Ghomeshi rapidly lost social media followers.
Ghomeshi has said that the claims against him are untrue. No charges have been filed.
But in a widely-shared Facebook post, musician Owen Pallett - a friend of Ghomeshi - said he believed the women who had made allegations. There was "no grey area", Pallett added. "I have heard about his ridiculous pick-up lines and have (to my shame) tittered about them with my friends. But I have never heard, until today, that Jian Ghomeshi beats women."
Many of the responses were supportive of Pallet. Others said Ghomeshi should be considered innocent until proven guilty. Robyn Urback of the National Post insists that "newspaper report is not a jury. Claims are not proof" and concludes that "it's OK to sit in the centre" until more facts are available.
Anne Theriault in Vice, however, argues that the principle of innocent until proven guilty extends to all parties involved, including the alleged victims, and "does not mean that you should assume that these women are lying".
Not everyone has pleaded ignorance. According to the writer Melissa Martin, the question: "Do you know about Jian?" has been asked knowingly across Canada for years. But no-one took action to stop this behaviour, she said, because "sticking your neck out meant publicly taking on one of the most influential people in the Canadian media landscape, someone with more money than you, more lawyers, more protection from his fame".
In one of the episode's more bizarre twists, two women claimed separately they had been introduced to his stuffed bear, Big Ears Teddy, and he turned the toy around just before he assaulted them, saying "Big Ears Teddy shouldn't see this." Subsequently, it emerged that a "Big Ears Teddy" Twitter account had sent 13 tweets in early April to Ghomeshi, in which a woman accused him of inviting her to his house under false pretences before punching her.
Much of the debate focused on Ghomeshi's claims he was victimised for his preference for BDSM - an abbreviation for bondage, discipline, domination, submission, sadism and masochism - and that all of his sexual activities had been consensual. He insisted the CBC had made a "moral judgment" against his lifestyle.
In New York magazine, Kat Stoffell says, if guilty, he would "not be the first person to use his right to privacy and kink to shirk responsibility for allegedly harmful sexual relationships... sex-positive open-mindedness doesn't excuse misconduct". However, Ghomeshi's alleged behaviour should not be used to tar the BDSM community, says Amanda Marcotte in Slate: "The difference between BDSM with consent and BDSM without it is simply the difference between consensual sex and rape."
In the Vancouver Observer, Steffani Cameron writes: "People joke about 'safe words', but in the BDSM community, the safe word is sacred. There is a widespread understanding amongst even hardcore BDSM fans that sadomasochism is all about trust and power - except that power is never held by the person with the whip in hand."
The writer Dan Savage spoke to a woman who said she had enjoyed a consensual BDSM relationship with Ghomeshi. Savage, however, concludes it was a "lucky coincidence" that she enjoyed the same activities as him - "Ghomeshi isn't a safe, sane, and consensual kinkster. He's a reckless, abusive, and dangerous one who has traumatized some women and lucked out with others."
In his most recent Facebook update, Ghomeshi said he would not be responding to the media.
Reporting by Jon Kelly
You can follow BBC Trending on Twitter @BBCtrending
All our stories are at bbc.com/trending