#BBCtrending: India's 'Kiss Protest' prompts controversy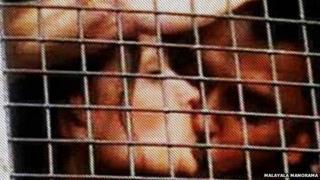 A number of Indians who staged a public kissing event - in defiance of local authorities - were detained by police, triggering outrage online.
Last week BBC Trending reported on plans to host a "Kiss of Love" event in Kerala, southern India. It began when a local TV report showed young couples kissing each other at a cafe. Members of the BJP youth group, a wing of India's ruling political party, thought such public displays of affection breached the country's obscenity laws, and vandalised the cafe. Many were appalled by the violent reaction, and took to social media to organise a mass public kissing event, scheduled for Sunday.
Thousands attended on the day - either to take part or simply watch - and several people were detained, prompting a further outcry on the internet. They were later released, but cases have been filed against 15 people for unlawful assembly, according to local reports.
A photograph of the organisers - Rahul Pasupalan and Resmi Nair - kissing as they were taken away in a police van has been shared widely on Facebook, and some have dubbed it "the kiss that defeated the fascists". One comment criticised the behaviour of the police: "Their logic is to evacuate peaceful protesters from the site to avoid any chance of ruckus in Marine Drive. Following this logic, one day they may also starts to arrest women to avoid any chance of rape."
A Facebook page created by the event organisers was inaccessible for more than five hours today. They claim it was taken down after multiple users clicked the "report abuse" link on the page - a well known tactic to have a Facebook page suspended temporarily. In a statement to BBC Trending, Facebook confirmed that the page has now been restored.
Online support for the page continues, with the number of "likes" doubling over the weekend to more than 75,000. Some of those commenting do not support the campaign, however. They posted comedy memes suggesting that more spectators than supporters turned up, and rival groups have also now emerged.
Reporting by Samiha Nettikkara
You can follow BBC Trending on Twitter @BBCtrending. All our stories are at bbc.com/trending