#BBCtrending: How the 'kiss of love' spread across India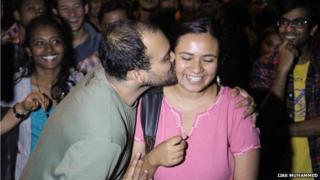 A public kissing event which began as a protest in Kerala, south India, is catching on around the country
Is public kissing morally acceptable in India? Earlier this month, BBC Trending reported on a Facebook group who organised a mass kissing event, dubbed the "kiss of love". They were protesting against an act of moral policing by a political party after a TV report showed couples kissing at a cafe. Members of the youth wing of India's ruling BJP party vandalised the cafe, saying that what went on there violated Indian morals. Several people were temporarily detained at the event, prompting a further outcry online.
Now the kissing movement is spreading across India - and with it, the opposition against public kissing. Last week, university students in Calcutta, Hyderabad and Delhi organised "Kiss of Love" protests in a show of solidarity. In Hyderabad and Delhi, the demonstrations were opposed by supporters of the Hindu right-wing ABVP and RSS groups respectively.
While local reports say the turnout at the events was low in terms of actual attendees, it's growing apace on social media. The initial campaign has now received more than 121,399 "likes" on Facebook. On 7 December, they plan to organise another kissing protest in Kerala, where it all began.
Reporting by Samiha Nettikkara
You can follow BBC Trending on Twitter @BBCtrending. All our stories are at bbc.com/trending