#BBCtrending: Why George Orwell is trending in Egypt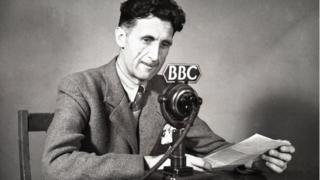 The British author's name is a byword for the struggle against totalitarianism. Now an arrest in Egypt has led activists to embrace George Orwell as a social media trend.
It has been over six decades since Eric Blair, better known by his pen name George Orwell, published 1984, his acclaimed novel about life under the totalitarian rule of the ever watchful 'Big Brother'. The book even led to a new adjective, 'Orwellian,' to describe life under oppressive state power. So when a newspaper in Egypt reported that the police had arrested a student for carrying the book, it was immediately seized upon by activists. The author's name is now trending on Twitter in Egypt.
The initial report in the Al Masry al Youm newspaper on Sunday claimed that a student at Cairo University was arrested "for carrying" the book. The student was also carrying material supportive of Islamic State, according to the report.
But it was Orwell's book that people on social media picked up on. The 6th of April youth movement, a group that opposes the government and has been active since before Egypt's revolution in 2011, posted the news report on their Facebook page. They added a link to an Arabic version of the book calling on their followers to read it. Their post has had over 5,000 likes.
The trend has spread beyond Egypt: George Orwell's "official" page on Facebook posted a link to the article in English. The post had around 10,000 "likes" and many Egyptians commented underneath on how embarrassing this news was for them.
There's a similar conversation on Twitter. On both platforms Egyptians drew sometimes comic parallels between Big Brother and their government. Egypt's President Abdel Fattah Al-Sisi initially came to power after ousting the Muslim Brotherhood government that was elected following the 2011 revolution.
Others commented that it was ironic that the arrest made Orwell and his book more popular than it ever was in Egypt. Well known journalist and Egyptian author, Hani Shukrallah, tweeted "#Orwell's_1984 never more popular in #Egypt, shared left & right on FB, thanks to police arrest of student in possession of the novel"
But was the arrest really connected to the novel? In fact many doubt the credibility of the initial report. Independent news website Mada Masr quoted the Head of the Investigations Unit at the Giza Security Directorate, General Mahmoud Farouk saying that the novel was nothing to do with the arrest. "None of us knew anything about this novel in the first place," he is reported to have said. The charges against the student remain unclear.
You can follow BBC Trending on Twitter @BBCtrending
All our stories are at bbc.com/trending