#BBCtrending: Careful what you say about Obamacare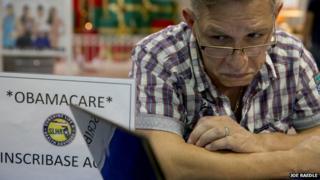 The man often called the "architect of Obamacare" citing a lack of transparency as to why the law was passed has become a YouTube hit. But why are his old remarks being shared now?
Professor Jonathan Gruber is an economist at the Massachusetts Institute of Technology (MIT) and advised President Obama's administration over its Affordable Healthcare Act ("Obamacare"). So a recording of him remarking that "the stupidity of the American voter" was behind the act being passed was always going to attract attention. A clip of these remarks been watched almost 640,000 times on YouTube since being posted on 7 November.
But there's a twist: these comments were actually made over a year ago. Professor Gruber took part in a panel discussion on 17 October 2013 hosted by the University of Pennsylvania's Leonard Davis Institute.
Here is what he said: "If you had a law which said that healthy people are going to pay in—you made explicit that healthy people pay in and sick people get money, it would not have passed, okay," said Gruber. "Lack of transparency is a huge political advantage. And basically, call it the stupidity of the American voter or whatever, but basically that was really, really critical for the thing to pass."
Fast forward more than a year and a clip of the offending remark is being watched hundreds of thousands of times on YouTube. It was uploaded by the right-wing group American Commitment, which supports "limited government and individual freedom", campaigns on a number of issues including health care reform and says it is committed to repealing the health care law.
Critics of the law and the President have posted hundreds of comments online.
"This is what we are up against folks" wrote one YouTube user.
Another said: "At least he was honest."
Four days after the video was posted, Prof Gruber appeared on US television to express his regret. He said he was "speaking off the cuff" and "spoke inappropriately".
But why did these remarks become an issue now? Obamacare is being discussed in the US Supreme Court as part of an ongoing case over health care subsidies. Earlier this year Prof Gruber was also part of a controversy when recordings from 2012 surfaced in which he appeared to contradict the Obama administration's position on subsidies. He clarified his remarks as "just a speak-o - you know, like a typo."
This became the subject of a YouTube video under the hashtag #GruberGate, which is also being used this week.
But in the end it comes down to the timing of when the anti-Obamacare lobby clipped and uploaded the video. "We pass on shameful clips from Obamacare's chief architect whenever they come to our attention," Phil Kerpen, President of American Commitment, told BBC Trending.
"Unlike Prof Gruber we believe in transparency and think the American voter is quite intelligent."
Prof Gruber himself would not have seen the social media controversy about him, because as he told WGBH radio in Boston, he is not on Twitter.
"I have certainly learned my lesson," he said. "I don't have Twitter, but I have learned that not only can I not tweet, I cannot speak."
Reporting by Anne-Marie Tomchak
You can follow BBC Trending on Twitter @BBCtrending
All our stories are at bbc.com/trending