#BBCtrending: The Palestinians calling for the 'car uprising'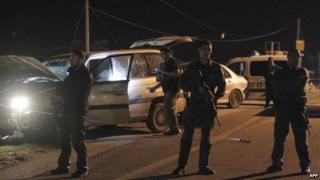 Palestinians are being urged to run over Israelis with their cars, as a campaign gathers pace on social media.
It's a particularly tense moment between the Palestinians and Israel. On Tuesday, a Palestinian man was killed in clashes with the Israeli army in the occupied West Bank. On Monday, an Israeli soldier and an Israeli woman were killed in separate knife attacks in Tel Aviv and near a Jewish settlement in the West Bank. These are just the latest in a series of violent incidents over the past few weeks, after a disputed holy compound known to Muslims as al-Haram al-Sharif, and Jews as the Temple Mount, was temporarily closed by Israeli police after violence.
Amid the tension, there have been two separate incidents of Palestinian militants ramming vehicles into pedestrians in Jerusalem, killing four people. Both attackers were shot dead.
On 6 November, the day after the second attack, a song by two young Palestinians, Anas al Garady and Abu Kayed, was uploaded to YouTube. The song, titled "Run-over settlers," starts with the following line: "They ran over a child two months ago, now we will have our revenge." The child they are referring to is five-year-old Enas Khalil who died after a Jewish settler hit two girls in his car in the West Bank in October. Israeli police said this incident was an accident.
The song on YouTube has now had almost 90,000 views. With it came a hashtag. On Twitter, the term #daais ("to run over" in Arabic) started popping on timelines and has had over 12,000 tweets since then. A page on Facebook supporting the campaign urged Palestinians to use their knives or cars as a form of resistance to Israel's occupation of the West Bank and Gaza. Supporters of the campaign have been sharing illustrations depicting cars running over people near Jerusalem's al-Aqsa mosque. On Twitter, a smaller number of people have also started using the hashtag "third intifada" in Arabic about the campaign.
You can follow BBC Trending on Twitter @BBCtrending
All our stories are at bbc.com/trending