#BBCtrending: Did Kim Kardashian #breaktheinternet?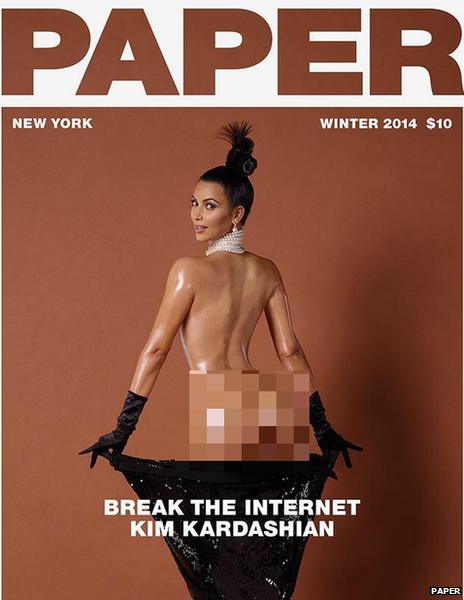 When Kim Kardashian appeared nude on the latest cover of Paper magazine with the caption 'Break the Internet' it certainly set the internet alight. Hundreds of thousands discussed Kardashian's body and she was the butt of many jokes as parody images circulated online. But there has also been a discussion about whether the images are fraught with racial undertones.
The cover image shows Kardashian smiling for the camera in her birthday suit with her posterior at the centre of the image. An alternative, less risqué, cover shows Kardashian wearing a sparkly dress and popping a bottle of champagne while resting a glass on her backside. She shared the photos to her 21 million followers on Instagram with the hashtag #breaktheinternet. The nude photo has been liked 762,000 times on Instagram and triggered more than 173,000 comments. And that's just on Kardashian's page. Kardashian has also been trending on Facebook and #breaktheinternet has been mentioned more than 178,000 times on Twitter.
Speculation about the extent to which the photos were enhanced or airbrushed was a large part of the conversation. And as you'd expect, parody pictures and memes flooded in. Photo editing techniques were used to reinterpret the images and many took the opportunity to superimpose clothing onto Kardashian. Others used the counter hashtag #fixtheinternet.
Amid the jokes, there has also been a serious discussion about whether the image plays on crude stereotypes of black women. Kardashian is Armenian-American. The French photographer who took this picture, Jean-Paul Goude, is also known for his work featuring black women, including a shot from the 1970s that features a remarkably similar pose to Kardashian's photo. That has led some claim that there is a racial subtext around these images. A blog to this effect, entitled 'Kim Kardashian doesn't realise she's the butt of an old racial joke' has been liked more than 36,000 times on Facebook.
Mikki Kendall, an African-American writer and cultural critic, told BBC Trending that the popularity of Kardashian's image shows how "black" body features are often more acceptable on white women. "The Kim Kardashian cover is the latest example of how racial double standards around nudity are enforced, as well as a prime example of how often women who do pose nude for art are attacked while the artists are absolved," she said.
Reporting by Anne-Marie Tomchak.