#BBCtrending: Open letter condemns fake 'Syria hero boy' film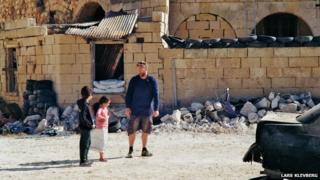 Journalists and activists around the world have signed an open letter to the Norwegian film director who staged a video showing a 'Syria hero boy' under gunfire. The letter addressed to director Lars Klevberg condemns the video as "reckless", "irresponsible" and "deceptive".
The video has been viewed almost 8 million times in total. The filmmakers claimed they wanted to ignite a conversation about children in conflict. But signatories of the open letter disagree. "This film undermines the work and the people who continue to document crimes against humanity," it says. There has also been anger online from Syrians themselves.
On the YouTube page where the staged video was originally posted, the conversation turned towards politics in Syria. Many referenced the video to reinforce their political views. "All the videos you guys have seen about how Assad is bombing and shooting his own people are fake and most of them were exposed. I knew this video was fake the first time i saw it." wrote one YouTube user, Baccara Hakim. "It is fake but that doesn't mean that its not happening everyday in Syria," wrote another, Nadia Haj.
"It has now deterred people from sharing potentially dramatic news items unless we all become video forensics experts overnight" Aboud Dandachi, a displaced Syrian from Homs, now based in Istanbul, told BBC Trending. "This has been the biggest setback to citizen journalism since the concept began. The children will no longer be the topic of discussion."
"The misery of children -and others - in Syria is very real. There is no need to fictionalise it. Fictionalising in order to draw attention to it does the exact opposite of the desired effect," Kinda Haddad, a Syrian-Dutch journalist, told BBC Trending. "It introduces doubt into any story that has come out of Syria over the last few years as well as anything that will come out in future. People on both sides will use this to their advantage. And if people are unable to tell the difference between fact and fiction they will quickly lose interest in a conflict that is causing untold misery."
Fred Abrahams of Human Rights Watch said the video did more damage than good. "Now I'm just disgusted," Abrahams wrote. "By releasing a fake video, Klevberg (the director) has made it easier for war criminals to dismiss credible images of abuse."
Reporting by Anne-Marie Tomchak
What impact has this staged video had on the cause of children in Syria? Get in touch with us@BBCtrending
All our stories are at bbc.com/trending