#BBCtrending: What price Mexico's "White House"?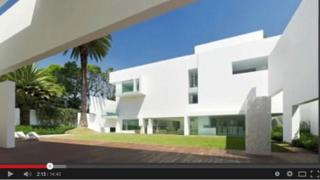 Telenovelas - or TV serials - are a profitable business in Mexico. But social media users have been sceptical about whether the country's First Lady earned enough from starring in them to afford the mansion that she and the President share.
It's been dubbed Mexico's "White House" - the private family home of Mexico's President and First Lady. Accusations about how the $7m (£4m) property was acquired have fuelled the latest of the scandals surrounding President Enrique Peña Nieto, and sparked the anger of many on social media who already criticise Nieto's handling of the recent disappearance of 43 students. It has been revealed that the actual owner of the property is his wife Angelica Rivera, former soap opera actress also known as "Gaviota" ("seagull"), named for one of her roles.
This week, First Lady Rivera entered the fray herself. She published a video on her YouTube channel, viewed over 1.9m times, outlining how her successful career allowed her to earn around $6,5m (£4m) - in other words enough to buy the house. "I can prove to you that I have the financial means to have a personal wealth for me and my daughters," she says in her seven minute address.
The declaration was suppose to ease her husband's latest scandal, but online at least, the result was far from that.
After the video was posted, her name became a world trend on Twitter, and several related hashtags made it to Mexico's top five trending topics. Much of the chatter was from the general public, showing surprise and consternation, but other soap stars were highly critical. "Why did I moved to TV Azteca and later to L.A, if Televisa was paying so well?" Mexican Hollywood actress Ana de la Reguera posted on her Twitter account. The remark has been retweeted 46,661 times. Writer and journalist Guadalupe Loaeza decided to post a meme with the houses of renowned stars priced in dollars.
"I have nothing to hide," Mrs Rivera says at the end of her YouTube video, while announcing that she will sell now the "White House" for the good of her family.
Reporting by Gabriela Torres
You can follow BBC Trending on Twitter @BBCtrending
All our stories are at bbc.com/trending