#BBCtrending: How did one political hashtag dominate the week in Britain?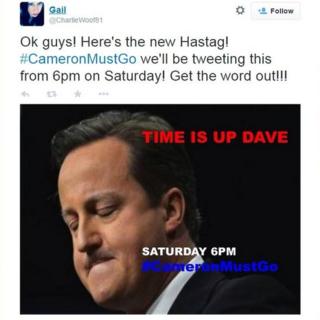 A political slogan calling for the ousting of the Prime Minister David Cameron has been shared on Twitter more than 400,000 times in five days. How did that happen?
It started when two ardent Labour Party supporters got talking on Twitter, and came up with a plan to try to get everyone else talking too. Users called "Gail" and "Jon Swindon" urged their followers - 5,000 in all - to join them tweeting #CameronMustGo, stating their reasons why, on Saturday 22 November at 6pm. Five days later, the slogan's been tweeted more than 400,000 times and today is the top UK trend on Twitter. Users with many followers, such as musician Brian May and former Labour Deputy Prime Minister John Prescott, have used the hashtag.
"It's not about forcing Cameron to resign," Gail, 33, told BBC Trending. She didn't want to give the BBC her full name but describes herself as a "lefty person of Northern origin" on Twitter. Rather, she says, it's about enabling people to talk about their views and experiences. "We know a lot of people who are frustrated with politics and they feel they don't have a voice. Social media is our space."
The hashtag has been one of the top three Twitter trends all week and Gail claims the campaign has reached 6 million people. "That would be a lot of doorsteps to visit, if you were campaigning," the Labour Party member and veteran canvasser says.
People using the slogan have also been targeting The Guardian and BBC Trending to try to get media coverage for the trend - and so boost its popularity further.
So could this be the beginning of a new phase of British 'hashtag politics'? No, according to Andrew Walker, co-founder of social media analytics company, Tweetminster. "I give it two weeks," he tells BBC Trending.
He says hashtags can quickly become popular on Twitter, but it's difficult to keep a campaign rolling, as new catchphrases are coined and catch on. And while social media is effective at influencing local politics, it's less effective at making a big impact on national politics, where voting behaviour is hard to shift, he says, noting that 29.6% of seats have never changed party.
Jon Swindon, the co-founder of the hashtag, describes himself as "Father, Husband, Rather Political, Against Tories/UKIP/Biased Media & Poverty" on Twitter. He and Gail had their first hashtag success when they coined the slogan #WeBackEd, in support of Ed Milliband, earlier this month. They were surprised at how it took off - being tweeted 42,000 times in less than 24 hours at the peak of its popularity - and were pleased to see how they could get people talking about politics.
"Reading the tweets, I've been moved by some of the stories people have told me - how their life has changed since the Coalition came into power," Gail says.
Reporting by Ruth Alexander
You can follow BBC Trending on Twitter @BBCtrending
All our stories are at bbc.com/trending