#BBCTrending: Filipina maid rescued after video plea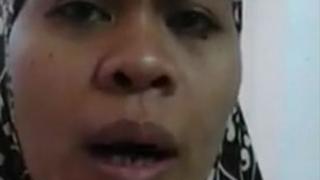 An emotional plea for help by a maid in Saudi Arabia has fanned the flames of the debate about conditions for domestic workers in the Gulf.
Nargelene Mendez, originally from the Philippines, posted a video to her Facebook page showing the pantry where she slept and talking about being abused by her employer, a retired police officer.
"They beat my colleague yesterday," she says. "They also beat me. Please help us. I'm begging you."
The video hit a nerve and was shared widely not only in the Philippines - home to millions of people who travel to the Middle East in search of work - but also in Spain, the US and the Gulf itself. The original post now has nearly half a million views.
Many of the comments on the version posted on YouTube were in Arabic.
"One day we might be in their shoes, these foreigners we mistreat," one user said, although others were less sympathetic.
Saudi Arabia and other Gulf countries operate a controversial migrant labour system called Kafala which gives employers wide control over the lives of their immigrant employees. Employers control passports and visas, which can effectively trap workers in abusive situations.
This week the regional Gulf Cooperation Council announced new rules for domestic workers including an 8-hour working day, annual leave, overtime compensation and at least one day off a week for domestic workers. The rules would also give maids the right to live apart from their employers and keep their passports.
But until the changes are implemented the system remains stacked in favour of the employers - so much so that workers are often afraid to speak out, says Rothna Begum of Human Rights Watch.
"It was incredibly surprising to see in her video the conditions in which she was working but also to show herself," Begum says. "I've never really heard of a case of a woman who did this and publicised in such a way."
We can't verify the allegations made in the video and haven't been able to contact the employers. But it appears the woman's cry for help did get heard. After the video was posted, a migrant rights organisation in the Philippines contacted the authorities in Saudi Arabia. The Philippine Embassy in Jeddah told BBC Trending that a woman by the name of Nargelene De Guia Mendez was "rescued from her employer" in October and is currently staying at a consulate building waiting for an exit visa.
Reporting by India Rakusen
You can follow BBC Trending on Twitter @BBCtrending
All our stories are at bbc.com/trending