#BBCtrending: 'I am tired': the politics of Mexico's #Yamecanse hashtag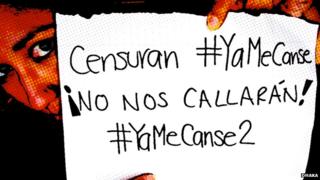 One phrase - "I am tired" or #Yamecanse - has been dominating the online conversation in Mexico since 43 students disappeared, and it's now become about much more than that one scandal.
"Ya me canse," said the Mexican attorney general Jesús Murillo Karam, as he brought a press conference about the missing students, who vanished after their bus was stopped by the police, to a close.
And so a hashtag was born. Within minutes, thousands of Mexicans were tweeting that they too had had enough, using the hashtag #yamecanse for emphasis.
"The reaction on social media was amazing," said the BBC's world duty editor, Lourdes Heredia - herself a Mexican - who was monitoring the news from London. "Because [Murillo] said it in a way that every Mexican would say 'I am tired, I am fed up with this situation, and enough is enough.' But what was he tired of? Was he tired of corruption, violence, drug cartels?" she said.
Almost as quickly, a group of political activists realised this was the "perfect storm" they had been waiting for.
"Sixty minutes after the hashtag exploded on Twitter, we started to communicate through direct messages and called for a street protest at the Angel of Independence statue in Mexico City," activist blogger @LoQueSigue_ told BBC Trending (he doesn't want to be known by his real name, only his Twitter handle, because he says he fears for his safety). He and his group adopted the hashtag for all their messages and now have a website: yamecanse.mx.
Their sustained efforts have helped keep the hashtag as a top trend on Twitter. The phrase has been mentioned more than 4 million times in the space of a month.
Last week the hashtag dropped out of the country's list of top ten trending topics - with some Mexicans suspecting a conspiracy - but a new slogan - #yamecanse2 - started and is, with more than 900,000 mentions, Mexico's top trend.
It's striking how organised the group is - @LoQueSigue_ described it as being like a media agency. There's an editorial team - made up of professionals from advertising, TV, film and radio - which plans their social media strategy, he says, and they have enlisted the help of actors, writers and journalists and other "influencers" to take part in videos and to tweet about it. A recent video they made - in English, to appeal to an international audience - was watched about a million times in just one week.
They are in constant touch with the families of the 43 students who disappeared, @LoQueSigue_ says, but this campaign group is about much more than the scandal of the missing students - they want the students to be returned, but they're calling for an end to all corruption and for President Peña Nieto's government to act.
"We want profound changes in our system. We want better education, universal health services … we want to reach everyone so they all know that a change is possible," actress Christel Klitbo, who took part in the video, told BBC Trending.
Most viral hashtags are short-lived, and this one is unusually sustained in its popularity, according to Carl Miller, from the UK think tank Demos, which has a centre for the analysis of social media.
"[The YameCanse.mx group] realise that viral search is actually important and influential, it can change decisions, it can pressure companies and governments to change the way they behave," he told BBC Trending. "So they kind of put themselves at the heart of this viral explosion and try to keep it running with techniques and tools from marketing or advertising."
"It's almost like a full-time job, analysing when the hashtag goes up or down," @LoQueSigue_ says. "And we're engaged in an online war with the government. Mexico's government has automated accounts - or bots - to create other trending topics or to spam our topics to push them down. It's a titanic effort to keep an eye on these online conversations to get to know who should we invite to join us, what content should we upload and how to maintain that."
But can the campaign achieve change in Mexico?
"The problem is loads of people can feel they're 'tired' but then when you talk about solutions - what should you do? And that's a difficult situation," says Lourdes Heredia, the BBC journalist. "Even the people who want to get involved in politics, once they get involved in the system, the grassroots movements don't respect them anymore, so it is a vicious circle."
Reporting by Gabriela Torres, Charlotte McDonald and Anne-Marie Tomchak.
You can follow BBC Trending on Twitter @BBCtrending
All our stories are at bbc.com/trending