#BBCtrending: #YesAllDaughters target arrested for rape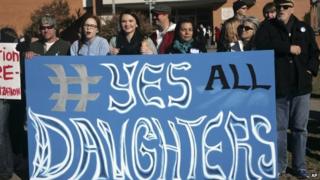 An alleged teenager serial rapist has been charged with two counts of first-degree rape, amid social media and in-person protests over the handling of the aftermath by an Oklahoma high school.
In early November, Stacey Wright and other members of her knitting circle listened as a 16-year-old girl claimed that "vicious" bullying and harassment had forced her out of school after she accused an older boy of rape.
"I knew we had to do something, I just didn't know what," says Wright, whose own daughter had attended the high school in Norman, Oklahoma.
And the 16-year-old was not alone. A 14-year-old claimed the same teenager, a senior at Norman High School, had raped her.
Both girls claim to had been the targets of bullying, mocking comments and unspecified threats at Norman High. Their alleged rapist had been suspended for the year but the attacks continued, Wright says.
Their families said very little had been done to respond to the bullying, and the girls had left school out of fear.
Though the school maintains it responded appropriately, students and members of the knitting circle planned a school walkout in protest.
They organised around the #YesAllDaughters hashtag.
The phrase echoed the popular hashtag #YesAllWomen, used online to discuss harassment and assault.
The movement grew. A third teenager, 16, came forward, saying Tristen Kole Killman-Hardin, 18, had raped her as well, months before in a school toilet.
As 1,500 people protested during the walkout on 24 November, Wright said, one of the victims told her: "I didn't think anybody liked me."
Killman-Hardin was charged on Tuesday for the rape of one of 16-year-olds.
According to police, he has admitted to having sex with her while she was "very intoxicated" to both police and on an audio recording made by a friend.
Captain Tom Easley of the Norman Police Department tells the BBC "at least" two additional investigations related to Killman-Hardin were ongoing.
On Wednesday, the 18-year-old appeared in court, and a not guilty plea was entered for him. At the same time, a Norman Public Schools spokeswoman said he would not "be a student of the Norman Public Schools ever again".
But the arrest of Killman-Hardin is not the end of #YesAllDaughters.
"We have been contacted by people all over the world with messages of support from far away as New Zealand," Wright says, adding there has also been an outpouring of stories of sexual assault from locals.
The group is exploring options about starting a non-profit.
"I can see us moving into the national discussion," Wright says. "Maybe we can effect some change."
Reporting by Taylor Kate Brown
You can follow BBC Trending on Twitter @BBCtrending
All our stories are at bbc.com/trending