#BBCtrending: Ferguson exposes Twitter's racial and social divisions analysed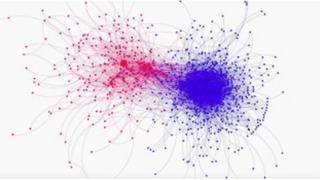 Does Twitter encourage real conversation - or does it trap users in bubbles with like-minded people?
Social media evangelists often talk about how new technology brings the world closer together. But the evidence for this is decidedly mixed. Now an in-depth survey of tweets after the events in Ferguson shows not one but at least two online conversations - with little overlap between them.
Emma Pierson, a statistician at Oxford University, analysed more than 200,000 tweets in the days leading up to the announcement that a grand jury chose not to indict police officer Darren Wilson in the shooting of Michael Brown.
Her findings, pictured in the above graph and posted on the business website Quartz, reveal a 'red' group - disproportionately conservative, white, and pro-police - and a 'blue' group - liberal, pro-protest, and including many more African-Americans.
There's little overlap, and indeed little communication between the two groups, she says. And when the two sides were talking, they weren't being very nice.
"They have very different backgrounds, said very different things, and often when they did talk to each other, they said very nasty things," Pierson tells BBC Trending.
---
Typical examples of retweeted 'red' tweets
"I would feel safer, any day, to encounter #DarrenWilson on the street, than to meet #MichaelBrown or half of those now protesting!"
"Autopsy report:Not only did Brown not have his hands up he was going4 Gun"
Common 'blue' retweets
"Governor calls State Of Emergency. National Guard waiting. FBI giving warnings. KKK issuing threats. What 'effing year is this? #ferguson"
"State of emergency in #Ferguson must not be used to violate human rights, including the right to peaceful protest."
Source: Emma Pierson / Obsession with Regression
---
Pierson, who runs the self-consciously geeky stats blog Obsession with Regression, says she was shocked by the starkness of the divide.
"I sent a message to a friend saying 'I think I've accidentally discovered racism', because it was so striking," she says. "It was not an unexpected result but I was surprised by how plain it was."
Other studies have shown social media divisions on contentious issues such as the Gamergate controversy and the conflict in Gaza.
Of course, to say that social media are conversations are divided is not the same as saying that Twitter and other networks actively drive us apart. Perhaps social media divisions simply carry over from the outside world.
"Conclusions that the internet puts us in 'echo chambers' are quite hard to prove," Pierson says.
In fact, one recent study by New York University political scientist Pablo Barbera indicated that Twitter was useful in exposing people to different views. (PDF)
In recent days the racial dimension of Twitter was raised once again after a grand jury decided not to indict a white New York City police officer in the death of Eric Garner, a black man he put in a chokehold.
The hashtag #CrimingWhileWhite - mostly white Americans tweeting about their own crimes that have gone unpunished - has since trended on Twitter.
It was started by a white comedy writer as a show of solidarity with the African-Americans, but some black activists online have called it counterproductive and condescending.
Pierson hasn't run the numbers on Eric Garner tweets - and it's hard to get a detailed picture in a still-fluid situation - but there are indications that the online ideological divide online might be less pronounced than the debate over Ferguson (#CrimingWhileWhite aside).
While both cases involve the killing of a black man by a white police officer, some commentators have pointed to differences in the circumstances surrounding the deaths. A few conservative American writers, for instance, have condemned the decision not to prosecute the police officer at the centre of the case.
Reporting by Mike Wendling
You can follow BBC Trending on Twitter @BBCtrending
All our stories are at bbc.com/trending