#BBCtrending: @OrkneyLibrary's favourite Twitter friends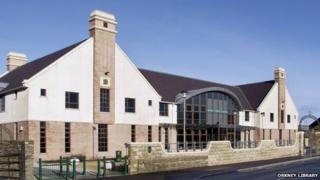 Although its books are physically located on a remote Scottish island, @OrkneyLibrary is now at the centre of the bibliophile Twitter universe.
This week the account pushed past 10,000 Twitter followers and caught the attention of the media - although to be entirely fair it has been trending for quite some time.
The account's success - its follower count is rapidly approaching the total population of Orkney - got BBC Trending wondering about other twitterers who are entertaining bookworms on Scottish islands (and maybe in other parts of the world).
We contacted the man behind @OrkneyLibrary, Stewart Bain, who shared some of his personal favourites.
Stewart says: "Our Northern neighbours. Like us, but farther away and a bit more Vikingy."
"Funny, good at swearing and a massive supporter of libraries. What's not to like? One of the first accounts we followed on Twitter."
"Fantastic organisation promoting reading, writing & literature for all ages in Scotland. Also give us money for author visits; we like this."
"Librarians tend to be quite keen on cats. This is one of our favourites. Looks sad but makes us laugh. A lot."
"I issue Rae's books at the library, chat to her on Twitter, then go home to watch someone pretend to be her on the telly [on the TV programme My Mad Fat Diary]. Confusing but fun."
"Big fans of a bad book cover; we have quite a number in our stacks, as anyone who follows us will know, but nobody has more than these guys."
"Funniest man on Twitter. Has probably read many books. Might ask him one day."
You can follow BBC Trending on Twitter @BBCtrending
All our stories are at bbc.com/trending