#BBCtrending: Thousands share 'politically-correct' football chants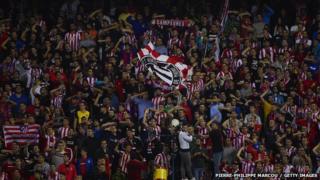 Spanish football fans are editing crude match-day chants to make them 'politically-correct' in a sarcastic response to the Spanish Professional Football League's (LFP) decision to fine supporters who sing offensive songs from the stands.
The hashtag #canticoscorrectos is trending on Twitter - with more than 65,000 mentions, as supporters put their imagination to work.
"We respect your sexual orientation! It is as valid as any other; it is as valid as any other!" tweets one user.
Spanish media reported that 17 Real Madrid fans were given life bans this week after taking part in abusive chants about Lionel Messi and Barcelona.
Violent and abusive supporters are being targeted by clubs, footballing authorities and the Spanish government in response to the death of a Deportivo La Coruna supporter after violent clashes between rival fans before the match at Atletico Madrid last month.
Officers in charge of matches will notify the LFP of any offensive chants they've heard and the LFP will report cases to Spain's Anti-Violence Commission every Thursday.
Reporting by Gabriela Torres.
You can follow BBC Trending on Twitter @BBCtrending
All our stories are at bbc.com/trending