The activists asking the Washington Redskins to #changethename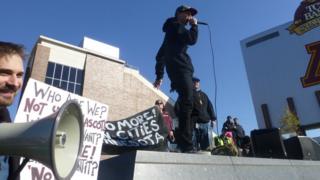 It's crunch time in American football season and on Sunday afternoons in the US, social networks are abuzz with key games and the best plays.
Alongside the on-field action there's been a growing controversy over the name of one team - the Washington Redskins. Many Native Americans say the word 'redskin' is offensive and the team's mascot - a crimson, feathered Indian head - should be changed. The team's owner and many fans disagree and refuse to consider dropping the name.
Earlier in the year, Trending brought you the inside story of the controversy over another Native American mascot,.
One of the activists we spoke to then, hip-hop artist Jordan Brien, aka Mic Jordan, is also at the forefront of the anti-Redskins campaign.
Trending blogger (and long-suffering American football fan fan) Mike Wendling visited Jordan on the Turtle Mountain reservation, and travelled with him to a rally outside a Redskins game in Minnesota. The resulting radio documentary is now airing on Assignment on BBC World Service radio. (UK listeners can hear the programme on BBC Radio 4's Crossing Continents).
Mike also went to Washington to hear from an ex-player and from fans, including those who are open to changing the name and others who say that changing the name would be an affront to the team's traditions.
Native American activists have been rallying under the hashtags #changethename and #notyourmascot, tags that saw a spike during the rally in Minnesota a month ago and have been bubbling at a low but steady level throughout the American football season, which culminates with the Super Bowl in February.
You can follow BBC Trending on Twitter @BBCtrending
All our stories are at bbc.com/trending