Sydney siege hashtag #illridewithyou and its opponents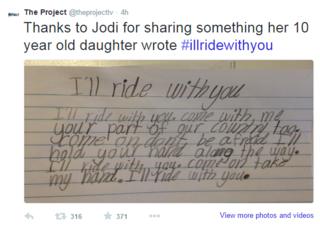 Many Australians are still showing their support for Muslims using the hashtag #illridewithyou.
The trend started even as the siege in Sydney was ongoing on Monday. But, perhaps inevitably, a backlash has hit Twitter: #iwontridewithyou has been tweeted more than 3,000 times.
Only about a third of the tweets under the new tag are actually coming from Australia - with more than a quarter from the UK, and 15 percent from the US. Tweeters are referencing not only the Sydney attack but the Taliban massacre in Pakistan and other terror attacks.
Typical was user @QueeniesSoapbox who posted a picture taken in the aftermath of the 2005 London bombings.
@QueeniesSoapbox wouldn't give her name, but she told BBC Trending that she was an ex-member of the far-right English Defence League.
"I don't like Islam and the teachings of Islam. And I am within my right to have that opinion. And I don't like people trying to silence me," she says.
She says she was upset at the reaction to #illridewithyou, although she acknowledged that some people using that tag had good intentions.
"I don't want to go out and hurt anyone, or ban people from doing what they want to do, or purposely insult their religion," she says - although her Twitter feed does include several sweary attacks directed at Muslims in general (which is why we're not linking to it).
Other twitterers were posting graphic images of beheadings and abuse. Several British far-right groups have been tweeting using the hashtag.
The anti-Muslim chatter is however tiny compared to the main hashtag #illridewithyou, which was still trending worldwide on Tuesday, and has been used more than half a million times. Nearly half of those tweets have come from Australia.
Reporting by Mike Wendling
You can follow BBC Trending on Twitter @BBCtrending
All our stories are at bbc.com/trending