'India with Pakistan': school massacre solidarity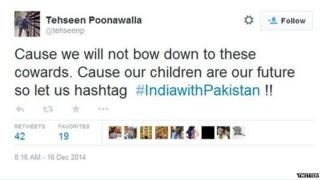 Thousands of Indians are sending a message of support to Pakistan on Twitter in the wake of the Taliban school massacre in Peshawar.
The hashtag #IndiawithPakistan has taken off in a matter of hours, despite the long history of antagonism between the two countries.
The idea was spawned by Tehseen Poonawalla, an entrepreneur and newspaper columnist from Delhi, who was in the gym when the news about the attack started playing on the television channels he was watching.
"The visuals were horrific and I was getting updates from social media as well," he told BBC Trending. "Yesterday, everyone was moved by the hashtag [#Illridewithyou] which came up after the attack in Australia. And I thought it was time for India to stand up and express their support."
He sent the first tweet with the hashtag #IndiawithPakistan at 0816 GMT. Within six hours, the hashtag has been used 8,000 times and the number was growing rapidly.
"When I started it, I did not realize that this would trend," Poonawalla says. I did not even know whether it would be perceived as a negative or positive hashtag. The support has been phenomenal and I think collectively, we need to fight hate. A lot of people from Pakistan have tweeted thanking me for starting this."
But other Twitter users have been critical of the hashtag.
"Nope!" responded user GOL Circle in India.
"Are you serious???" tweeted Manimala, an Indian living in the UK.
"There will be elements in every religion and country who take extreme positions," Poonawalla says in response. "But the fact that this is trending shows that humanity is trending. The majority of people in both India and Pakistan want peace. If people across the world can show solidarity, India can also stand up in support [for Pakistan]."
Reporting by Ruth Alexander and Samiha Nettikkara
You can follow BBC Trending on Twitter @BBCtrending
All our stories are at bbc.com/trending