The surprising calm emerging from Russia's rouble crisis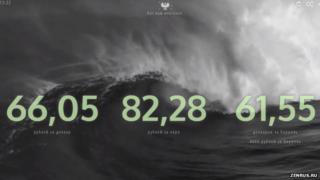 In the midst of spiralling inflation, falling oil prices, and economic sanctions, Russians are turning to … Zen.
It's a simple, calming website showing current exchange rates backed with pictures of clouds and soothing music that's being passed around Russian social media.
Mikhail Lisnyak told BBC Trending that he can't remember the specific moment when he had the idea for Zenrus.ru, but that it was inspired by the panic he saw around him about the rouble.
"I decided that people need to relax a little. So I designed a website where information was displayed with a relaxing screensaver and music," he says.
Lisnyak says his site got two million hits on the day of the Russian central bank's dramatic decision to raise interest rates to 17%. Zenrus.ru has spawned a number of imitators including an homage to the apocalyptic final scene of Fight Club and another site that displays scantily-clad women alongside the latest rates.
Lisnyak says it could even earn him a few roubles, volatile though the currency might be at the moment.
"Initially, I spent just one evening making this website, but then when the number of visits began to grow, I had to work hard to make sure the site wouldn't fall down," he says. "But now I'm in talks about advertising. There are plenty of companies wanting to put their ads on the site."
The dark, unique Russian sense of humour seems to be rising to the current economic challenge. One YouTube video compares the rouble to the Titanic, and other jokes are being shared on Twitter and the Russian-language network VKontakte. But the humour comes with a serious edge.
"This time the memes are not quite so hilariously funny because people do understand what's happening is very bad," says Anastasia Denisova, a social media researcher and Russian meme expert at the University of Westminster. "You can't really make fun of an economy because it's too big an issue."
The value of a currency is not as fertile ground for humour as the foibles of politicians and celebrities, but there are some hints online that the economic crisis is reflecting badly on those in power.
"This time there is a lot more criticism of Putin and the government," at least among liberal social media users, she says, although it's too early to tell whether the crisis will hurt the Russian president in the long term.
Reporting by Elizaveta Podshivalova, Samiha Nettikkara and Mike Wendling.
You can follow BBC Trending on Twitter @BBCtrending
All our stories are at bbc.com/trending