Why some people are so upset over #blackbrunch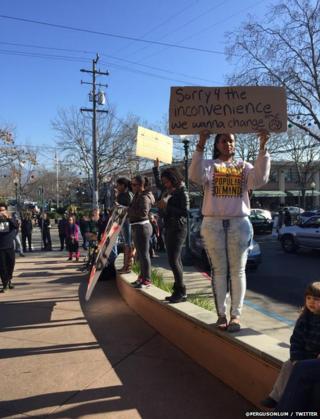 It started as a creative method of protest against police violence in America.
The hashtag #blackbrunch hit New York City over the weekend. It was used by protesters who interrupted meals at several restaurants. They recited the names of African Americans killed by police, security guards or vigilantes, an action one organiser says was inspired by the civil rights protests of the 1950s and 60s.
The breakfast interruptions started in relative obscurity last month on the other side of the US in Oakland, California as a tactic to highlight allegations of police brutality. Wazi Davis was one of the people who organised the initial protests.
"Me and my friends wanted to be protesting and be in the streets, but a lot of the protests we saw happening were not organised by black folks at all," Davis says.
Targeting brunch at upscale restaurants was seen by activists as one way of taking a message to a new demographic group - wealthy and predominately white.
"We march, chant and sing together as we claim space in areas that are predominantly non-Black," according to a manual posted online by The BlackOUT Collective, one of the groups behind the original protests.
Thousands of people have tweeted under the #blackbrunch and #blackbrunchnyc tags over the last few days. But several of the most popular comments were anti-protest.
One of the more attention-grabbing tweets (above) was sent by John Cardillo, a businessman and former New York City police officer.
"I found this group to be incredibly cowardly, this was a feel-good measure and they picked the softest target imaginable," Cardillo told BBC Trending. "It was incredibly tasteless to do this during the funeral of a police officer [in New York City on Sunday]. It was in incredibly poor taste and it was counterproductive to their mission."
During Sunday's funeral of one of two officers shot dead by a man who wrote online missives against the police, New York City officers turned their backs on Mayor Bill de Blasio to express their unhappiness at his handling of anti-police protests.
Cardillo says his tweet was deliberately provocative but wasn't meant as an actual threat - he lives in Miami, far from the scene of the protests - and denied that there was a racial motivation to his criticism. He says he would have supported the protesters if they had been on the street rather than in restaurants and that he was testing the reaction of some tweeters.
"These people who are screaming about my photograph, I didn't see any of them shouting about the murder of two cops," he says.
Wazi Davis, the protest organiser, says criticism - both online and off - hasn't put activists off their brunch protests.
"We had a mix of reactions. Some people were really moved by the message we brought. Some came up to us and asked how they could help. Others you could see the clear annoyance on their faces.
"#Blackbrunch is definitely going to continue."
Blog by Mike Wendling
You can follow BBC Trending on Twitter @BBCtrending
All our stories are at bbc.com/trending