Why are Venezuelans posting pictures of empty shelves?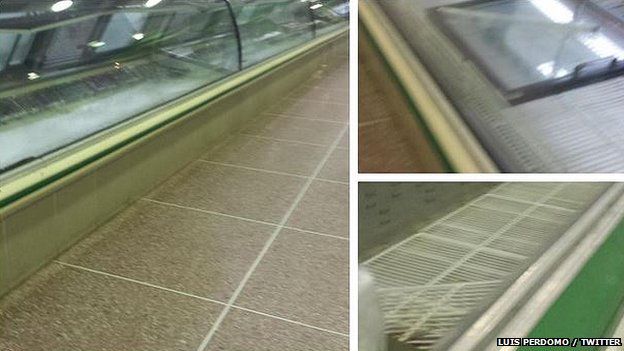 Thousands of Venezuelans have been posting pictures of empty supermarket shelves online - but what is driving the trend?
Shortages of basic products are not new in Venezuela. For the past couple of years, there have been intermittent shortages, mostly outside the capital Caracas. To get everything on their weekly shopping list, Venezuelans have to scout around - and sometimes make do without. In a deeply divided country there's no agreement on why these shortages are happening - with the opposition blaming the government controls and the government citing a conspiracy by the rich against the poor.
So why did posting pictures of empty shelves suddenly become a thing on Venezuelan social media this week? The hashtag #AnaquelesVaciosEnVenezuela ("Empty shelves in Venezuela") became a worldwide Twitter trend, with over 200,000 tweets.
BBC Trending have established that it all began on New Year's Eve, when photographer Alejandro Cegarra stood across the street from a branch of the Excelsior Gama supermarket chain. He was trying to take a shot of the many long queues outside the store. He was approached by officers of the National Guard who ordered him to stop, and he live tweeted about it - capturing the attention of hundreds.
The supermarket manager then also approached Cegerra and told him to stop taking pictures, even though he was not actually inside the premises. Then, as Cegarra also tweeted, the manager asked a National Guard officer to arrest him.
"Another person claiming to be a journalist from newspaper El Nacional came to my support," Cegarra told BBC Trending. "He warned the officer that if he was planning to detain me, then he would have to take him too."
By then, his comments had been retweeted hundreds of times. Excelsior Gama subsequently apologised to him for the incident, but that didn't stop thousands of others posting pictures of empty shelves as a form of protest.
Venezuelan society is polarised, and the vast majority of those posting these images are people openly opposed to the government. One of the first was commercial pilot Oliver Laufer, who has over 14,000 followers on Twitter. His picture is from a different branch of the same retailer, where he seems to have deliberately provoked a confrontation. He found what he was looking for; his message was retweeted thousands of times.
"Our staff didn't know what he [Laufer] was taking pictures of and as soon as he was questioned, he got violent," Natacka Ruiz, Excelsior Gama's marketing manager, told BBC Trending. According to Ruiz, Excelsior Gama and other retailers in Venezuela restrict the use of cameras inside their stores for "strategic reasons" to do with marketing. "We invest a lot of money in figuring out the best way to display our products in order to increase our sales," she says. But why can't people take images of empty shelves? "The current situation doesn't mean that we don't have to stick to our rules," she says, "and we also have to preserve our staff's privacy."
Over the days that followed, social media users posted images taken from different supermarket chains - not just Excelsior Gama - all over the country.
This week, there has been further speculation about product shortages in Venezuela, after McDonalds began replacing French fries with cassava chips - or other non-potato alternatives - although the reasons behind this are unclear.
You can follow BBC Trending on Twitter @BBCtrending
All our stories are at bbc.com/trending