Sleuths and wags have fun with #Centcom hack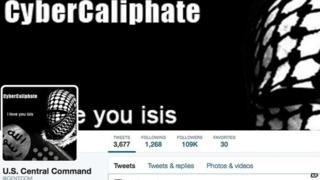 It wasn't exactly Pearl Harbor. In fact, it wasn't even on a par with the attack on Sony Pictures servers by hackers allegedly affiliated with North Korea, which spilled gigabytes of sensitive corporate information across the internet.
Still, as BBC technology reporter Dave Lee points out, the hijacking of US Central Command's Twitter and YouTube accounts by individuals purporting to be part of the "CyberCaliphate" was an embarrassment for the US government - particularly coming at the exact time US President Barack Obama was giving a speech about the importance of cybersecurity. Centcom, after all, oversees US military operations in the Middle East and Central Asia.
"This was always intended to be a PR coup rather than a technical one," Lee writes.
Given that the story centres around social media, Twitter was a rich source of quick-hitting commentary on the attack - with more than 80,000 #Centcom mentions since the story broke, many in the form of digital head-shaking and tut-tutting.
"Could someone please reassure me that Centcom doesn't control our nukes?" asks Breitbart's John Nolte.
Gawker's Adam Weinstein notes that the "information" tweeted from the hacked accounts were all in the public domain.
"America, tremble before Isis's unstoppable power to share boring-ass unclassified Powerpoint slides recovered in a daring Google search," he tweets.
Others found cause for concern, however.
"The story isn't that the people who took over CentCom's Twitter posted public addresses," writes conservative commentator Drew McCoy. "It's that those addresses were already public."
Piers Morgan was among those who found it rather unsettling that it took so long for Twitter to suspend the hijacked account.
"Account 'suspended'. Took 39 minutes," he tweets. "Hope U.S. Central Command is a bit quicker when it really matters, jeez."
But was the hack even the work of Islamic militants? As a number of Twitter sleuths point out, while "ISIS" was plastered all over the fraudulent tweets, it's an acronym that the real Islamic State abhors.
A Twitter account affiliated with the hacker group Anonymous said that it had traced the Centcom hacker to a computer located in the US state of Maryland.
"At this point, they're either really smart or we're dealing with a 17-year-old who can barely spell 'I love u ISIS'," the tweeter added.
Anonymous wasn't the first to speculate that the hack could be the work of mischievous teenagers.
"Suspected something wasn't Hoyle when 'ISIS' demanded a Miata, X-Men comic number 1 & a lifetime subscription to Playboy," tweets Julian Sanchez.
Meanwhile Weekly Standard writer John Noonan shares a bit of perspective: "In related news, Centcom dropped some 5,000 bombs on IS in the past week, destroying over 3,000 targets."
Evidence that the sword is still mightier than the tweet.
Blog by Anthony Zurcher
You can follow BBC Trending on Twitter @BBCtrending
All our stories are at bbc.com/trending