#FreeSpeechStories: Should you lose your job for racism online? Your responses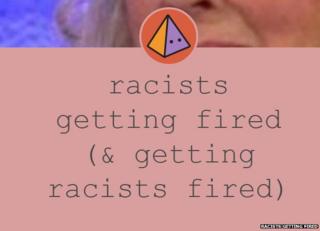 We've been asking you whether a person should lose their job for posting racial slurs online.
Earlier we told the story of the Tumblr blog Racists Getting Fired, and spoke to a man who got the sack after using a highly offensive racial slur on Facebook.
There have been a number of cases when individuals have lost their jobs over posting controversial comments online. We've been looking at some your responses to our blog, and the comments have been really diverse.
Anne Catherine tweeted "NO. Unless you are on a company account/computer, what you say off hours should not be reason enough to fire you." Mirka from Australia felt that individuals should be allowed to correct their statements. "A reaction of dismissal for a few statements, without providing a person with an opportunity to correct actions? The employer could highlight how some statements may be undesirable. Give people a chance, it is their livelihood."
Mirka isn't the only one who thinks that perhaps re-education is the answer. "Give them a choice: re-educate them or get the sack," said one response.
But how far should employers go in making posting offensive content a "sackable offence"? Sean Saunders responded "You can't say what you like online without being held responsible by your employer who you represent."
Most of the chatter directed our way was about racism and offensive comments, but what about the vigilantes hunting down those comments?
"Racism is wrong, and so is thought-policing," said commenter Moominmama in a comment on our blog.
"Why does Logan Smith (who runs the @YesYoureRacist Twitter account) think he can be judge, jury and executioner? why should he decide what is racist and what is not. Most people dont know what the word means," said another commenter.
And it doesn't matter if you were just intending a comment to be made for a small group of people - social media is public, a point reiterated by Patrycja Szpyra. "The Internet is now a key part of society. The internet is public and if you can't behave, you'll get in trouble."
Reporting by Ravin Sampat
You can follow BBC Trending on Twitter @BBCtrending
All our stories are at bbc.com/trending