Miss Universe spat: the beauty queen selfie that turned ugly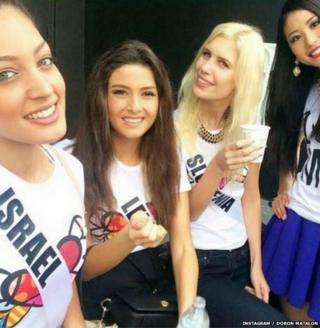 Lebanon's relations with Israel aren't pretty, so when a smiley selfie showing a beauty queen from Lebanon next to her counterpart from Israel made the rounds online, things got ugly fast.
Doron Matalon, the 21-year-old Miss Israel, posted a selfie on her Instagram account showing her with Lebanese contestant Saly Greige (with Miss Slovenia and Miss Japan in the background) at the Miss Universe pageant in Miami. The image spelled immediate trouble for the Lebanese contender.
"You do not represent Lebanon," commented several angry Lebanese using an Arabic hashtag that translates as "A word to Miss Lebanon." The hashtag has been used around 7,000 times and has been a top trend on Twitter in Lebanon since the photo was posted.
"If you sell your honour it's easy to sell your country," tweeted one Lebanese commenter.
Critical comments were showered on Greige, who defended herself in a Facebook post explained that she was having a photo with Miss Japan and Miss Slovenia when "Miss Israel jumped in and took a selfie."
Miss Lebanon's fans came to her defence and filled her timeline with support messages. "It's a beauty pageant contest and not a war of nations, just relax and be sure that we all support and love you," one Lebanese woman commented.
But her post didn't go down so well with everyone.
"Are you not supposed to be promoting world peace? Can we not leave politics out of this? I find it sad that you think like this and had to write this statement," wrote an Israeli man under Greige's Facebook post.
Miss Israel also took to Facebook to respond: "It doesn't surprise me, but it still makes me sad. Too bad you cannot put the hostility out of the game, only for three weeks of an experience of a lifetime that we can meet girls from around the world and also from the neighbouring country," Matalon wrote in English and Hebrew.
The reaction to Miss Lebanon's controversial photo "was to be expected" says prominent Lebanese journalist and women rights activist Jumana Haddad. "We are often at war with Israel, it's not appropriate to pose laughing with those who we consider the enemy," she told BBC Trending.
But some Lebanese wondered why Miss Lebanon was getting more heat than the Lebanese Foreign Minister for appearing in a photo with Israeli Prime Minister Benjamin Netanyahu at the recent mass march in Paris.
"You guys are mad at miss Lebanon? What about Gebran Bassil walking next to Netanyahu against terrorism?" tweeted a Lebanese woman.
Israel and Lebanon have fought a series of bitter wars, the most recent in 2006. This isn't the first time that a Miss Lebanon has found herself in trouble for apparently socialising with "the enemy."
In 1993, the Lebanese authorities disqualified their contestant after she appeared in a photograph with the Israeli contender at the Miss Universe pageant.
The Miss Universe argument is just the latest in a number of recent stories where Lebanese women find themselves in trouble for actions that are said to "poorly" represent their country.
Last year Olympic skier Jackie Chamoun came under fire for a series of risque pictures. And more recently Lebanese social media kicked up a fuss over Lebanese-born porn star Mia Khalifa, who received death threats and hate messages online, after she was named top adult actress on the adult website Pornhub - a story covered by our colleagues at Newsbeat.
Joumana Haddad believes that the huge negative reactions to Khalifa and Chamoun are hypocritical and blown out of proportion because they involve sexuality, but the "Miss Lebanon's situation is different," says Haddad, "This is primarily a political issue."
Blog by Mai Noman
You can follow BBC Trending on Twitter @BBCtrending
All our stories are at bbc.com/trending