#FreeSpeechStories: The explosion of #JeSuis____ campaigns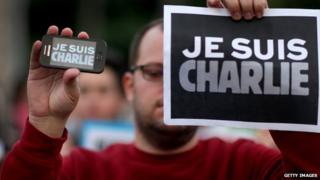 The French words for "I am" - "Je Suis" - have become a rallying cry for online campaigns around the world.
It is one of the most popular hashtags attached to a news event ever - #JeSuisCharlie has been used millions of times since the attack on Charlie Hebdo in Paris earlier this month. BBC Trending spoke to the creator of the slogan, who explained his underlying message: "I am free, I am not afraid."
Activists have since adapted the phrase, using #JeSuis as an opener for dozens of hashtags across several platforms - some of them earnest social and political campaigns, others less serious efforts.
Here are some of the #JeSuis hashtags that caught our eye in over the last two weeks:
#JeSuisRaif
This hashtag is being used by supporters of Saudi blogger and activist Raif Badawi who has been sentenced to flogging by authorities in Jeddah for "insulting Islam." BBC Trending has been following reactions to the case.
#JeSuisVolnovakha
In Ukraine, social media users including President Petro Poroshenko are using #JeSuisVolnovakha to draw attention to the conflict with pro-Russian separatists. The hashtag is named after the eastern city of Volnovakha where at least 12 people were killed in a bus shelling last Tuesday.
#JeSuisNigeria
As the world showed solidarity after the Charlie Hebdo attacks, some questioned the relative lack of response to Boko Haram attacks in Nigeria, where hundreds have been killed this month.
#JeSuisNico
Memes mocked former French President Nicolas Sarkozy for finding his way to the front of the Paris unity march attended by world leaders - there is even a Tumblr account curating the memes which shows Sarkozy at the Moon landing in 1969 and at the funeral of John F Kennedy and a Martin Luther King Jr rally. "Nico" is the former president's nickname.
#JeSuisHypocrite
Social media users have used this hashtag to call out perceived double standards by governments and the media in ensuring freedom of speech. #JeSuisDieudonne, for instance, emerged after the arrest of French comedian Dieudonne M'bala M'bala over a Facebook comment appearing to back Paris gunman Amedy Coulibaly. Some have even rallied to support television anchor Jim Clancy with the hashtag #JeSuisJimClancy after he left CNN following a series of controversial tweets about the Paris attacks.
What are the other #JeSuis hashtags we should add to this list? Tweet us at @BBCTrending
You can follow BBC Trending on Twitter @BBCtrending
All our stories are at bbc.com/trending