#FreeSpeechStories: Your reactions to blogger Raif Badawi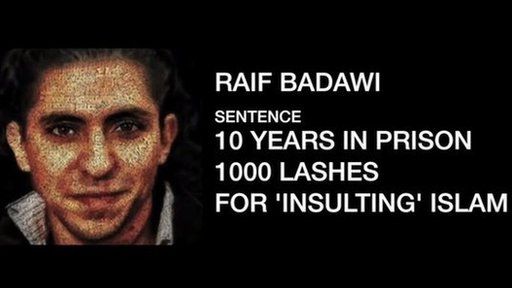 Of course it's terrible, but it's the law of the land isn't it?
That's what you've been telling BBC Trending in reaction to the news Saudi blogger Raif Badawi will be lashed 50 times a week for crimes including insulting Islam.
On another note though, some people in the West think publicity about the flogging will shame Saudi citizens into calling for reform.
As YouTuber Gabslyv put it: "Give them enough rope, they'll hang themselves in the eyes of their own people. It's how change comes about ... bad press! It eventually takes effect. Reform of Islam is the key word."
There's no sign international outcry has pierced the consciousness of Saudi residents yet though.
Eighteen science Nobel laureate winners in the West have written an open letter to academics at the King Abdullah University of Science and Technology in Saudi Arabia.
They're urging them to support the campaign to cease public flogging, in the name of the very freedom of dissent which is vital for scientific enquiry.
Raif Badawi's flogging was postponed last Friday on medical grounds but it is believed to be going ahead this week.
You can follow BBC Trending on Twitter @BBCtrending
All our stories are at bbc.com/trending