Conspiracy theories swirl after Argentine prosecutor's death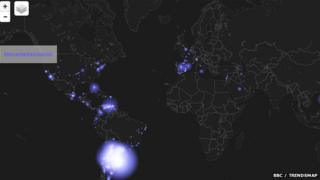 Consider the plot of this amazing story: the bombing of a Jewish centre, 85 deaths, 20 years of investigations and the prosecutor in charge of the case found dead in his apartment hours before he's due to explain allegations which incriminate the president. The result? More than 600,000 tweets in three days.
The story is unfolding in Argentina, following the death last Sunday of prosecutor Alberto Nisman, which sparked outrage on social media and fuelled conspiracy theories.
Mr Nisman's body was discovered just before he was due to give evidence to a congressional committee outlining his accusations against Argentine President Cristina Fernandez de Kirchner. He also accused Foreign Minister Hector Timerman of involvement in a plot to cover up Iran's alleged role in a 1994 attack on a Jewish community centre. Nobody has ever been convicted in connection with that bombing (see box below).
"He spends 11 years investigating a case and commits suicide the day he was due to give evidence. Everything normal, nothing suspicious," tweeted Enzo Ibanez. His sarcastic message has been one of the most retweeted comments, and many others discussed the case and gave their own versions of what may have happened.
"#Nisman has weapons, however, the 22 calibre gun he uses is not his; he is alone at his apartment, and decided to commit suicide in his bathroom?" tweeted Jose Figueroa Alcorta. "Nisman wasn't depressed to the point of killing himself; on the contrary, he was determined to speak about everything he's got," wrote another user.
Sociology professor Hernan Charosky of Palermo University was not surprised about the conspiracy-minded reactions on social media. "This is a problem that dates back decades and its latest chapter is Mr Nisman's mysterious death," he told BBC Trending. "We are talking about secret services, conspiracy, the CIA, Mossad, Syria, Iran and Hezbollah. We have excellent material for a mysterious death."
In the midst of the conspiracy theories, Argentine president Cristina Fernandez de Kirchner used Facebook to publish a statement which only fuelled the speculation: "On the prosecutor Alberto Nisman's case of suicide (?), there isn't only stupor and unanswered questions, but also a long history, too heavy, too strong, and overall too sordid; the tragedy of the biggest terrorist attack to ever happen in Argentina."
President Fernandez also questioned the fact that the gun supposedly used by Mr Nisman was given to him the day before by a colleague for self-defence purposes "when the prosecutor had 10 police officers looking after him."
"The main objective of this letter is to mislead," says Marcos Novaro, director of politics research centre CIPOL. "What she wants is to make everyone suspicious."
Mr Novaro added that this is a "reasonable strategy" as the president has come under heavy criticism.
"If you know that people won't believe you, then you involve everyone [in speculation] in order to have a better chance of getting out of the situation in one piece," he said.
And indeed, some of President Fernandez's supporters rallied to her side.
"I'm with you, president," wrote Horacio Mario Pantano, one of hundreds who expressed support on Ms Fernandez's Facebook page. "They always blame our president; I believe it was the opposition. Cristina, I'm with you," commented Raquel Torres.
The president's office declined to comment. However on Thursday, Cristina Fernandez used her social media presence to continue to question Mr Nisman's cause of death. "Our doubts are now certainties. The suicide - I'm convinced - it wasn't a suicide," she wrote.
Blog by Gabriela Torres
You can follow BBC Trending on Twitter @BBCtrending
All our stories are at bbc.com/trending