Ebola victim on Reddit: 'Only me and my father survived'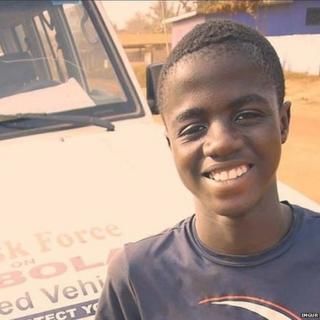 You've heard the big numbers around the Ebola crisis - more than 8,000 deaths and counting, mainly in West Africa.
At those levels, the narrative often reduces people to numbers, humanity gets lost and the focus turns instead to the science of potential cures and vaccines.
But for a few minutes this week, a boy from Liberia asked people to forget what they thought they knew about the disease, as he told his story on a Reddit AMA ("ask me anything") thread: I am a 14-year-old Ebola survivor in remote Liberia.
The session was particularly popular in America, attracting hundreds of comments and ensuring the post was trending on Reddit's front page over several days this week.
"A human needs to hear things like your story to truly feel for all of those numbers, I think," a grateful Redditor said.
Five people in Mohammed's family caught Ebola, and his grandmother and two sisters died. Mohammed and his father recovered.
"OMG I couldn't imagine having to deal with that," one Redditor replied.
"Meanwhile ... America blew a fuse because of 3 cases in the entire country," another responded.
Mohammed spent a month in quarantine and said: "I felt bad about myself. Because I needed help but I could not get help from my family or others that were close to me. I only got helped by strangers."
He appears to have no lasting physical effects from the disease, but said on the thread that the disease changed his outlook on life. Before he caught the virus he was working in a motorcycle repair shop.
"Now that I have experienced Ebola I would like to start going to school and not only be a mechanic," he told Redditors.
The AMA was organised by two gaming fans and philanthropists from Belgium who go by the names Reese and Athene, as part of fundraising for Ebola projects via their website Gamingforgood.net.
Athene told BBC Trending: "Ebola is falling off the news agenda now that it is mainly in the recovery stage. But there's still a lot of funding needed. We wanted to raise awareness with the AMA and show this situation and also reach out to our gaming audience.
"We've raised $20m for Save the Children in the past year and we wanted to try to help here.
"Mohammed was really keen to tell his story so we drove to where he lives. He wanted to do the AMA so that more people would know about people like him and he felt really good doing something that he knew would help the community if people donated to charity."
"The question that really seemed to get everyone going and took us by surprise was in response to someone offering him an Xbox. He didn't know what that was," Athene said. "He knows computers but has never really typed on one. So he told us the answers for the AMA and we replied."
"We made an effort to try to prove to the audience that he was real, so we were a bit concerned when somebody pointed out the age discrepancy on his discharge certificate which gives his age as 12 and the age we gave on Reddit. The thing is, age is not seen in the same way in Liberia as in Europe or the US. For ages they just guess."
Mohammed is back in his home village living with his father, and his goal is to work for an NGO.
"We're happy to be able to raise awareness in other countries and help to break stigma and generalisations around Ebola," Athene said.
Blog by Sitala Peek
You can follow BBC Trending on Twitter @BBCtrending.
All our stories are at bbc.com/trending