#BBCTrending: Is Winnipeg Canada's most racist city?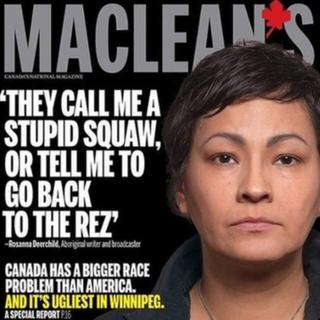 The mayor of Winnipeg was surrounded by indigenous people as he spoke to the press Thursday - the same day his city was declared the most racist in Canada.
"Ignorance, hatred, intolerance, racism exist everywhere," Mayor Brian Bowman said, fighting back tears.
"Winnipeg has a responsibility right now to turn this ship around and change the way we all relate - aboriginal and non-aboriginal, Canadians alike from coast to coast to coast. … To do so, we have to shine a light on the problem we do have in Winnipeg, and the problem we share with communities across this nation, because without the light, we can't see what we're fighting."
Since his inauguration in November 2014, Mayor Brian Bowman has been seen as a bridge builder.
He is Winnipeg's first indigenous mayor, and is the first mayor to acknowledge in a speech (at his swearing-in ceremony and on Thursday) that Winnipeg was built on the traditional homeland of the Metis nation, who are descendents of indigenous people and European settlers.
But on Thursday, Maclean's magazine published "Welcome to Winnipeg: Where Canada's racism problem is at its worst."
Inspired by the recent murder of Aboriginal teenager Tina Fontaine, the article details life in a province where just 13% of the population has a "very favourable" view of Aboriginals, down from 32% in 2007.
In her article, author Nancy Macdonald cited social media to illustrate her argument.
"Oh Goddd how long are aboriginal people going to use what happened as a crutch to suck more money out of Canadians?' Winnipeg teacher Brad Badiuk, who is now on administrative leave, wrote on Facebook.
"They have contributed NOTHING to the development of Canada. Just standing with their hand out. Get to work, tear the treaties and shut the FK up already. Why am I on the hook for their cultural support?"
When Robert Falcon-Ouellette, director of the University of Manitoba's Aboriginal focus programmes, ran for mayor in Winnipeg, a shopper approached him with a finger pointed, reports Ms Macdonald.
"'You're that guy running for mayor. You're an Indian,' he said. …. 'I don't want to shake your hand. You Indians are the problem with the city. You're all lazy. You're drunks. The social problems we have in the city are all related to you.'"
The mayor, who is Metis, told the press gathered at Winnipeg City Hall, "we need to get real."
"It takes all of us working together, committed to inclusivity, equality, love and compassion for everyone. And we're here today to call on all Winnipegers and all Canadians to join us, to start this path to end racism right here at home and lead the nation in tolerance and love for one another."
By Thursday afternoon, Winnipeg was trending on Twitter in Canada, and many Winnipegers took to social media to comment.
Lisa Lee wrote on Facebook that she loves Winnipeg but admits that the city is in need of a crisis intervention.
"The situation of white vs native, and native vs native, is at an all time low. The city is torn apart by heart wrenching poverty and violence on a daily basis. There is literally a war happening, on the downtown streets, and has been for as long as I can remember."
Facebook user Nancy Geary took a different view.
"As someone who has married into a native family and has lived in and around Winnipeg most of my life I find this article very one sided. Countless times I have seen aboriginal people perpetuate these stereotypes which is why the masses believe them to be true!"
The debate continues on Maclean's Facebook page - and throughout the city of Winnipeg.
Reporting by Micah Luxen
You can follow BBC Trending on Twitter @BBCtrending.
All our stories are at bbc.com/trending