#FreeSpeechStories: Why was one death singled out in Egypt?
By BBC Trending
What's popular and why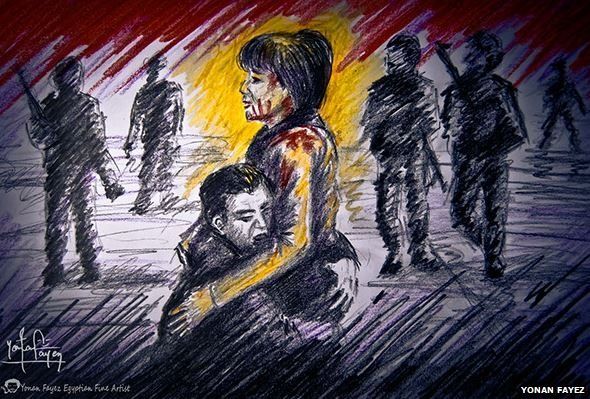 Updated 28 Jan to clarify timeline of deaths over the weekend.
Does the death of Shaimaa al-Sabbagh - whose story has captivated social media - mark a change in Egyptian attitudes towards protesters?
Back in 2011, protestors, who succeeded in toppling the 30-year rule of President Hosni Mubarak, were hailed as heroes.
So why did the death of Shaimaa al-Sabbagh provoke a strong response?
One answer is the sequence of events on 24 January. It all started with this emotional tweet: "I don't know her, I couldn't save her, the girl died and her blood is on my clothes." Egyptian journalist Nancy Attia was in a state after a protester died in front of her.
On Saturday, 32-year-old al-Sabbagh joined a protest in Cairo organized by the Socialist Popular Alliance party.
Photos show her standing by other members of the party chanting "bread, dignity, freedom" - the same slogan of the uprising that toppled President Hosni Mubarak. Another photo to put on the site of those killed in Tahrir Square in 2011. But al-Sabbagh never made it to Tahrir - she was shot dead on the way to the square.
The Ministry of Interior issued a statement vowing it will bring al-Sabbaghh's killer to justice. But the government opponents are not convinced. They believe that it was the police that targeted her.
Al-Sabbagh was one of the first people to die during the weekend demonstrations. In total at least 17 others were also killed, and dozens were injured. Yet it was her story that dominated social media.
"Shaimaa's death was documented, the images and the footage were very powerful," Egyptian blogger Fatima Said told BBC Trending.
Videos - some much too graphic to be shown on this blog - showing people rushing to take her to the hospital, with her face covered in blood, were uploaded onto YouTube and viewed by over a million people.
But the spread of news about her death is not just about a female victim whose death was caught on camera.
Fatima Said believes it also has something to do with her not being identified as a Muslim Brotherhood supporter, a group now demonized by a large segment of the population.
"People have become desensitized towards a certain group," Fatima says, "and because Shaimaa was clearly a liberal and a person the West can identify with ideologically, her story got picked up widely by English speakers on twitter and international media."
Just a day before al-Sabbagh's death a 17-year-old student was shot dead during clashes between Muslim Brotherhood protesters and residents in Alexandria. The protester was Sondos Abubakr, but her name did not trend.
"Shocking but not surprising," Said says. "We shouldn't discriminate in our coverage of death."