Tweeters spread Kenji Goto peace message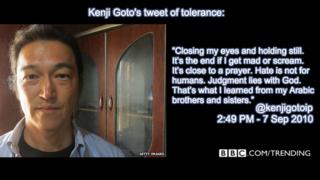 A four-year old tweet written by Kenji Goto, the Japanese hostage apparently executed by Islamic State militants, has been shared more than 30,000 times.
"Closing my eyes and holding still. It's the end if I get mad or scream. It's close to a prayer. Hate is not for humans. Judgment lies with God," Goto wrote. "That is what I learned from my Arabic brothers and sisters."
Goto was a film-maker and journalist who reported frequently from the Middle East, including from Syria and Iraq. The message from 2010 was revived by Twitter user @Coley_JP two weeks ago - shortly after video of Goto in captivity was released by Islamic State. It really started to become widely shared two days ago, after IS released video of what they said was the journalist's execution.
Another message widely shared was written by BBC journalist James Longman and warned social media users about spreading IS propaganda.
"Don't share the video. Don't play their game. Share pictures of Kenji doing his job," Longman wrote, in a message that was retweeted more than 17,000 times
Earlier BBC Trending reported on the #IamKenji hashtag started by one of Goto's friends, which has now been tweeted about 90,000 times.
Blog by Mike Wendling
More from Trending:
Who is the mysterious donor giving thousands to gamers?
Scorn over 'overweight' obit for famous Australian writer
You can follow BBC Trending on Twitter @BBCtrending. All our stories are at bbc.com/trending