Why Argentines mourned the death of a hateful fictional character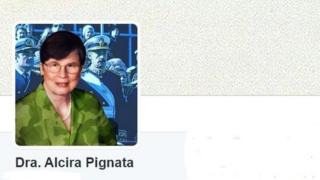 She was rude, fascist and utterly implacable, and yet her "death" stormed social media in Argentina.
Dr Alcira Pignata, a 64-year-old who on her profile looked incredibly similar to former US General Attorney Janet Reno - she always assured followers that it was her actual picture - announced her "death" after listening President Cristina Fernandez de Kirchner on national TV.
"That's it, I let myself die. I close the account. It is over. They win," was her final tweet.
Thousands tweeted her back, begging her not to "die". Many couldn't believe the news, while others decided sarcasm was the best answer. "Hashtags at half-staff if Pignata's death is confirmed," joked cartoonist Bernardo Erlich on his twitter account.
Dr Pignata was a fictional Twitter character created by an anonymous person in 2010 and over the years Argentineans have grown quite fond of her - she had more than 186,000 followers. Right-wingers liked her frank talk, and left-wingers liked to laugh at an exaggeration of an extreme conservative.
"The biggest banknote in our country is worth US$10. We are Mozambique," Dr Pignata tweeted. "It took three days to realise that there was another door into Nisman's apartment. We deserve a thousand years of Kirchnerism," she recently commented after the announcement of the mysterious death of prosecutor Alberto Nisman.
Pignata fought tirelessly for the return of a dictatorship and she constantly railed against gays, Muslims, black people and liberals, not to mention Peronism, the working-class political movement based on the legacy of former president Juan Domingo Peron.
She tapped into a frustration with politicians and for many, she became an unofficial opposition after presidential speeches. "Where is Dr Pignata? There is a public broadcast and I need her tweets to stand it," one fan wrote.
"She represents the stereotype of a vast group of Argentineans," said Ingrid Beck, editor of satire magazine Barcelona. "She is the wealthy fascist that mistreats people. We laugh a lot, but many of the things she says you can hear in real life from elderly upper-class women."
Is it really comedy? "I'd rather take her as parody than as a statement, otherwise I would not laugh," Beck said.
"There is a story behind her - a script, with episodes delivered on Twitter," Beck added. "I'm sure she'll come back, this is just another chapter."
Blog by Gabriela Torres
More from Trending:
Pegida in the UK: Don't believe the 'likes'
Scorn over 'overweight' obit for famous Australian writer
You can follow BBC Trending on Twitter @BBCtrending. All our stories are at bbc.com/trending