'They're just jokes' say Indian comedians under investigation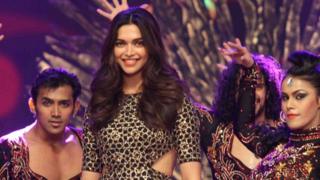 Updated 5 Feb 1205 GMT with news of online petition and union's statement
YouTube comedians in India have defended themselves after authorities said they would launch a probe into whether their humour was "abusive."
What is it okay to say in Indian culture? That question is at the heart of a social media confrontation gripping India. On one side, AIB, a group of young performers who describe themselves as "India's edgiest comedy collective." On the other, conservative Hindu groups who have complained to the Maharashtra State Government.
AIB has around 900,000 YouTube subscribers for its videos which send up various aspects of Indian culture and politics. Their growing following means we have featured them before on this blog - with this alternative take on India's election, for example. Their latest venture was a three-part series called the "AIB Knockout." They brought a roster of top Bollywood stars in front of an audience and "roasted" them - in other words, taunted them with highly personal jokes and insults, including graphic references to the stars' sex lives. It's a format familiar in the West, but it seemed sure to shock in conservative India.
And shock it did. The video not only got 8m views, it attracted complaints for its "vulgar" humour with sexual references, and for being against Indian values. In Maharashtra, the state where Mumbai is located, a local Hindu nationalist party called AIB's language "abusive and filthy." The hashtag #AIBNationalShame began to trend, with comments such as "Hilarious !!?? Really ?? Is vulgarity n abusive language necessary for charity ?! Or to show how open we r !!" and "Bollywood showed one thing today that Bollywood will remain a gutter!" The state's Department of Culture said it would investigate the "vulgarity," although the relevant Minister later tweeted that they weren't allowed to do "moral policing" and could only check if the comedians had a licence.
The main film industry union, the Federation of Western India Cine Employees also waded into the dispute, and demanded apologies from the actors that participated in the video.
In light of the complaints, the comedians themselves decided to take drastic action - and took the video down from YouTube. Although they are not granting media interviews, AIB posted a long response online which makes clear that for them, this is a struggle over Indian culture and free speech.
"Over the last few days, we've found ourselves subject to more scrutiny, judgment and opinion than we're worth," they wrote. "This Knockout shouldn't matter. In a secure culture it wouldn't matter."
They make clear that there were age and content warnings on the video. "To everyone who's called us seditious pornographers while plotting the downfall of Indian Values And Civilization As We Know It, we would like to reiterate that we are just a bunch of comedians who work, and have always worked, without any malicious intent whatsoever," they said. However they didn't go into detail about why they took the video down.
On social media, there has been a rally of support for the comedians under the term "We Stand By AIB Knockout." More than 25,000 people have signed an online petition in defence of the group.
"The real issue here is not about some celebs made some jokes & some people got offended. It is about moral policing.. We Stand By AIB Knockout," wrote one tweeter. There has also been a new video in response posted by Indian YouTubers The Viral Fever, which has been trending all day under the hashtag #NoCountryForFunnyMen.
Prominent Indian tweeter @GabbbarSingh has been commenting on the issue on his Twitter feed, and he told BBC Trending that the removal of the video was a "pragmatic move."
"When there is a backlash from people who sound like they have a lot of free time and muscle power, it's natural to care about their own security and their loved ones. Had I been in AIB's shoes, I would have probably taken a similar step," he said.
Leading Bollywood actresses Deepika Padukone, Sonakshi Sinha and Alia Bhatt came under fire for attending the event. One tweet read "#DeepikaPadukone Could u explain AIB show. It is so sad that role models of millions were participated in it."
Blog by Mukul Devichand and Ravin Sampat
More from Trending:
Pegida in the UK: Don't believe the 'likes'
Scorn over 'overweight' obit for famous Australian writer
You can follow BBC Trending on Twitter @BBCtrending. All our stories are at bbc.com/trending