Is Jordan's Abdullah really a warrior-king?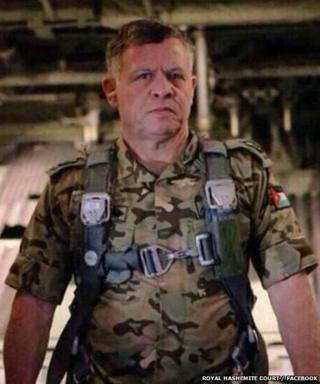 He's ex-special forces and he cuts a mean figure in his combats, but now the internet is turning Jordan's King Abdullah II into a warrior-king - a story only very loosely based on the facts.
King Abdullah promised a swift reaction to the killing of a pilot by Islamic State - Jordan bombed IS positions and executed two Iraqi prisoners.
The news cycle also highlighted the king's hands-on military background, and one of the most-shared images is a photo (shown above) posted on the official Royal Hashemite Court Facebook page. It has attracted about 5,000 likes - but is actually an old photo that was posted on the the royal court's official Instagram account eight months ago. American journalist Andy Carvin dug into the story in detail for reported.ly and found that photo as well as others of the king in military garb were taken out of context and posted online this week.
On Reddit, commenters picked up on reported - but erroneous - claims that the king would personally take part in air-strikes on ISIS. Other Redditors countered with an accurate report knocking down the rumours - but as of writing, that thread was less than half as popular as the false story.
Elsewhere online, opponents of President Obama created memes unfavourably comparing him to the king. The president - who never served in the military - was shown golfing and working out, juxtaposed with the king's tough-looking snaps.
Most of the chatter about the king getting involved in battle has come from outside Jordan.
Meanwhile Arabic-speaking social media users have been sharing this image of Jordanian bombs with the words: "A gift from soldier colleagues of the martyr to the dogs of 'Daesh'". ("The martyr" is a reference to the pilot Moaz al-Kasasbeh who was burned alive by IS, and Daesh is an Arabic acronym for the group, often used by IS opponents.) The photos appear to come from the Jordanian Armed Forces website.
Blog by Sitala Peek
More from Trending:
Just joking? The Indian comedians under investigation
Fallen leader: Mugabe mocked after tumble
You can follow BBC Trending on Twitter @BBCtrending. All our stories are at bbc.com/trending