Was it right to label Chapel Hill shootings a 'hate crime' so quickly?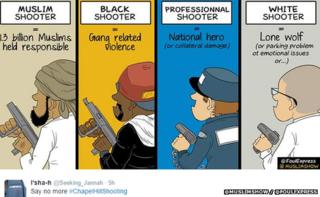 The creator of the #ChapelHillShooting hashtag admits he "assumed" the triple murder was a hate crime but says people "cannot blame the Arab and Muslim community for believing that."
It's a murder case that has captured global attention - but were people on social media too quick to call it a hate crime? More than 2m people all over the world have now used the hashtag #ChapelHillShooting to express their condolences over the shooting of three Muslim students in North Carolina. A quarter of a million people used the phrase "Muslim Lives Matter" on Twitter. Many of them - including the father of two of the victims - have said that the shootings were a hate crime based on the victims' faith.
However the police have not yet confirmed any motivation in the case beyond a dispute over parking spaces. They've arrested Craig Stephen Hicks, 46, in connection with the shooting of 23-year-old Deah Shaddy Barakat, his wife, Yusor Mohammad Abu-Salha, 21, and her sister, Razan Mohammad Abu-Salha, 19. Mr Hicks' wife has told the media she does not believe religion was a factor.
So why did people online assume it was a hate crime?
The #ChapelHillShooting hashtag was started by an activist, Abed Ayoub. He's the legal and policy director of the American-Arab Anti-Discrimination Committee (ADC), a lobby group based in Washington. At the time when he first tweeted about it, details of the crime were still thin on the ground. BBC Trending's Mukul Devichand spoke to him about his decision to highlight the case. Below is an edited transcript of their conversation - you can catch the full discussion on our radio show and podcast on Saturday.
---
Q. What did you know about the shootings and when did you decide to write your first tweet?
In the initial stages we knew that three of our community members were killed, just the basic facts that a young man, his wife and her sister were murdered. One description said "execution-style" and as soon as we read that, most of us figured that there's probably something there. We have noticed a rise in Islamophobia and anti-Arab sentiment in the US so the first thing of course that popped into our minds, and my mind, was that this could be a potential hate crime.
At the beginning I was hesitant about saying this is a hate crime, I thought "we need to have the investigation go forward", but as bits and pieces of information began coming out, I personally made a determination that there was a high probability this was a hate crime. When you have people killed "execution-style" that doesn't happen in an argument over a parking spot as the police officers are saying. There's something more.
Q. But at the time you gave these events their interpretation on social media, you did not really know what happened?
At the time I was tweeting and others were tweeting, yes, we made the assumption given the circumstances and given the facts, that this was a hate crime. But I think - as one of my other tweets alluded to - you cannot blame the Arab and Muslim community for believing that.
Q. You are the legal and policy director of a major campaigning organisation. By jumping the gun did you undermine the credibility of the case?
No, by jumping the gun I think we opened the dialogue and conversation about the issues we're facing in this community.
---
More from Trending:
Did this woman really call Islamic State fighters 'donkeys'?
Watch more videos on our YouTube channel or follow BBC Trending on Twitter @BBCtrending.
All our stories are at bbc.com/trending