10 Hours of Walking in Paris as a Jew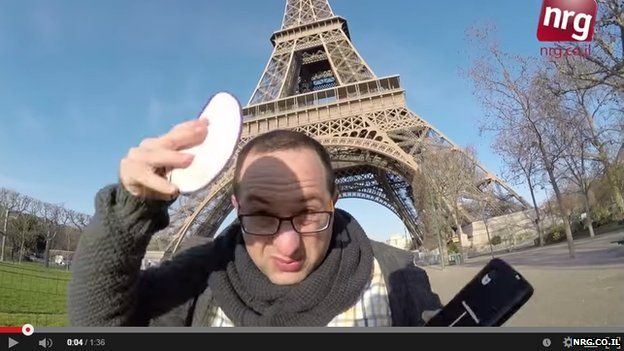 Can Jewish people walk the streets of Paris in peace?
That's the question Zvika Klein - a journalist at an Israeli news website - says he set out to answer. He borrowed the "10 hours in...." YouTube format, in which a hidden camera is used to show what it's like to walk a city's streets. It first appeared back in October, when hidden camera footage of a woman facing sexist abuse as she walked the streets of New York was watched almost 40 million times. It spawned a raft of of copycat videos.
Klein's version takes place in the French capital. In the film he dons a kippah - the traditional Jewish skullcap - in front of the Eiffel Tower, and wanders the streets of the city. He appears to face significant abuse as he walks around. Residents are seen staring and spitting at him, while others apparently shout "Jew" and "Viva Palestine". The footage was gathered over 10 hours at the beginning of February, says Klein, and edited down into a clip lasting just over 90 seconds. It's been watched more than 100,000 times in less than 24 hours, and the number is climbing fast. He told BBC Trending he flew to Paris to conduct the experiment for NRG, a news website based in Israel.
It's impossible for us to verify Klein's video, and like other "10 hours in..." videos there has been a large amount of editing - which critics say conveys a false impression. The clips featured appear to be shot in poorer and predominantly Muslim neighbourhoods. Could he be accused of deliberately seeking out negative comments? He doesn't see it that way. "If I was walking around with an Israeli flag, I understand it might create negative feelings. But I don't think [wearing a kippah] should generate that kind of thing."
So are Jewish people confronted with this kind of abuse throughout the city? No, not everywhere, Klein tells BBC Trending. In its more famous neighbourhoods - around the Champs Elysees and the Eiffel Tower - he saw "a little bit, but nothing worth putting in the video". "As we went to the suburbs, or certain neighbourhoods in the city, the remarks became more violent," he says.
Although a bodyguard was trailing Klein and his secret cameraman, he was not called into action. "I did think that there might be some violence, but there was none," Klein says. In fact some locals spoke out in his defence when heckled, and there was a friendly conversation as well, but these were not filmed and included in the video.
With an apparently anti-Semitic murder among two killings in Copenhagen this weekend, and last month's Paris attacks including four murders at a Kosher supermarket, some Jews in Europe are feeling vulnerable. Marc Konczaty, president of MJLF, a Jewish community organisation in Paris, says he is not surprised by the video, and that anti-Semitic abuse in the city is "getting worse". "People are no longer bothered about saying things in public," he says. But he agrees with Klein's observation that it is usually confined to certain neighbourhoods in the north and east of Paris. He is keen to point out that Muslims and other minorities in the city can face similar problems.