Turkish women share stories of abuse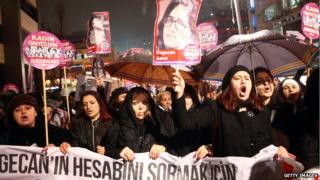 The attempted rape and murder of a young woman has electrified social media in Turkey - and now hundreds of thousands of women are sharing their own stories of sexual abuse.
For several days now, one young woman's tragic story has gripped the Turkish nation. On Wednesday last week Ozgecan Aslan was abducted and later murdered, allegedly for standing up to a man who tried to rape her. According to reports, she pepper-sprayed her assailant but was later overcome, and beaten to death with an iron bar. The tragic case has touched a nerve in Turkey, and Aslan's name has now appeared more than 4 million times on Twitter.
At the beginning of the week there were street protests over the case. Now the conversation about her death has evolved, and women across the country are using a hashtag - #sendeanlat - to swap tales of everyday sexual abuse. The phrase translates as "tell your story", and has itself been used 800,000 times. "Do you know how it feels like having to put pants instead skirts on your daughter?" said one tweet using the hashtag, and "The terror when you're the last on the bus and the driver turns the mirror on u," read another. Both messages appeared in English thanks to the work of a writer, Tonella Himbeer, who is translating what Turkish women are saying.
There have seemingly been watershed moments like this on social media in the past in Turkey - when women have spoken up en masse, for example, over a Minister's comments about women laughing in public. But this conversation felt so significant that Himbeer wanted the rest of the world - or at least the English speaking world - to see what was happening too. She told BBC Trending that on Sunday she began translating the tweets, and the hashtag, so that a wider audience could understand the "horrific" encounters of Turkish women. "When I went to police after being harassed they told me: no wonder if you wear that skirt. #tellyourstory," said one of the translations.
The last decade has seen a sharp rise in the level of violence against women in Turkey, although part of that may be due to better reporting of cases. Some in Turkey's women's movement feel that official policy has not helped. Selen Lermioglu from women's group Esitiz ("We Are Equal") told BBC Trending that in her view the government, led by the AKP party, has encouraged gender stereotypes. In a conference in November, President Recep Tayyip Erdogan said equality between men and women was "against nature". "Turkey was already traditional and patriarchal," says Lermioglu, "but these messages aren't helpful". She thinks the social media outcry represents the breaking of a taboo over discussing everyday sexual harassment and abuse in public.
Not everyone agrees with the sentiment behind the campaign. One female journalist, Sevda Turkusev, a columnist for the pro-government daily newspaper Yeni Safak, used the #sendeanlat hashtag to criticize the women, tweeting "To those women telling the abuses they experienced not to doctors but on social media: Do you think you are going to be heroes like those on tv series?"
Blog by Gemma Newby
Next story: Why life in Somalia is funnier than you may think
You can follow BBC Trending on Twitter @BBCtrending. All our stories are at bbc.com/trending