How the "Fifty Shades" social commentary spread across Asia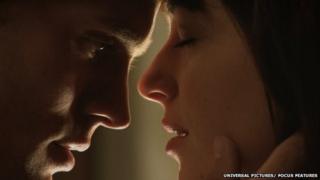 The craze for using "Fifty Shades of Grey" language to make salacious online comments about ordinary life - rather than talk about sex - is spreading across Asia.
It's the stuff marketing campaigners dream of: a concept takes off and people in other countries claim it as their own, tailoring it for their specific circumstances. Such was the fate of the #50ShadesofGrey hashtag that began in Singapore. Earlier this week, thousands of Singaporeans played off the erotic film's style to make jokey comments about city life. Now, people in Manila and Hong Kong are borrowing lines from E.L James' novel and film to reference aspects of their life totally unrelated to sex.
So in the Philippines, which according to reports have among the highest electricity prices of most South East Asian countries, they bemoaned energy rates; "Lower, please, make it lower," she moaned, begging. Then she opened her Meralco bill. #MNL50ShadesofGrey" was one example.
And in Hong Kong they referenced Chinese New Year traditions: "He gripped the swollen red sheath. She gasped and reached out. "Kung Hei Fat Choy" he breathed, handing her the envelope. #HK50Shadesofgrey"
The idea crossed three international borders (the Manila hashtag was used more than 2,600 times, the Hong Kong one about 1,500 times; the original Singapore hashtag was used 5,000 plus times) and began as many things do with a casual conversation between friends.
Ana Tan Santos - aka @MrsUnlawyer said she was encouraged to start the Manila hashtag following the example of her poet friend Alvin Pang in Singapore. Ana's husband Paul then suggested sharing it with Hongkongers - and their journalist friend Alan Wong in Hong Kong took the bait and rose to the challenge.
As Mr Wong notes: The beauty of the Shades of Grey tweets is that, all cultural and regional differences aside, we all speak a common language.
Their aim - like the book on which it is based - was simply to have fun.
Blog by Sitala Peek
Next story: Tony Hart Mourned Twice on Twitter
Or maybe you'd like to watch: 50 Shades of Singapore
You can follow BBC Trending on Twitter @BBCtrending. All our stories are at bbc.com/trending