#BBCTrending: Cindy Crawford photos cause online debate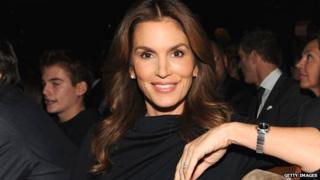 It has been almost three decades since Cindy Crawford posed for her first-ever magazine cover, but her name was trending worldwide as an unretouched photo of the 48-year-old supermodel went viral on social media.
Initial reports indicated the image was part of a series of unretouched pictures to be featured in an upcoming issue of Marie Claire magazine.
The public's reaction to the photo - which features Crawford sporting a black lingerie set, fur coat and a not-quite taut stomach - was overwhelmingly positive.
"Bravo Cindy Crawford. 'Beauty is truth, truth beauty, that is all Ye need to know on earth, and all Ye need to know," tweeted fellow Hollywood star Jamie Lee Curtis.
"Could not love Cindy Crawford more for insisting that Marie Claire publish untouched, REAL photos of her #beautiful" wrote Twitter user @LouboutinJools.
While the story of Crawford demanding that Marie Claire publish the unretouched photo went viral, the magazine quietly amended that narrative in an article of its own. It stated that the image, which was taken from a shoot for a December 2013 cover story for Marie Claire Mexico and Latin America, was a leak.
The new revelation has lead to more soul-searching online, and has left some body image experts conflicted about the release of, and subsequent reaction to, Crawford's "brave," "real-woman" body.
"Now that I know the image was leaked, it kind of changes my response to it," said body image expert and author Leslie Goldman. "When we thought she had intentionally released that photo, it was different. We thought she was putting it out there to say 'I'm not perfect either.'"
That the image was apparently distributed without Crawford's permission puts it in a camp with other, more notorious celebrity leaks - like the infamous 2014 Apple iCloud hacks that targeted Hollywood A-listers including actress Jennifer Lawrence and pop star Rihanna.
"Tearing down unrealistic beauty standards is noble, but it shouldn't come at the cost of a woman's privacy," said Guardian columnist @JessicaValenti.
"How is an objectifying pic of Cindy Crawford's scantily clad, unretouched body released without her permission empowering to women exactly?" said Twitter user @WarrenHolstein.
Despite the media frenzy surrounding the image, Crawford and those close to her have remained silent, save a sole Valentine's Day Instagram from husband Randy Gerber. It showed Crawford lazing poolside - and looking much more the "supermodel" ideal.
The Marie Claire photo may have been circulated under circumstances that were dubious at best, but according to Goldman, that doesn't diminish the value of seeing a legendary supermodel with flaws. "Women everywhere are feeling empowered, relieved and grateful to her," Goldman said. "I just wish it had come about under her control."
Blog by Brenna Cammeron
You can follow BBC Trending on Twitter @BBCtrending.
All our stories are at bbc.com/trending