The anonymous 'hero' of the M25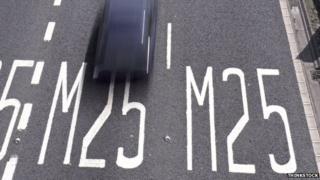 A van driver being celebrated for an act of kindness on the roads has chosen to remain anonymous.
After an Argos van driver pulled over to help a woman who'd broken down, he disappeared without a trace. Gemma Elsey-Kail was so rattled after breaking down on Friday on the M25 - the orbital motorway that loops around London - that when a van driver pulled over to shield her from traffic, she forgot to ask for his full name. When the police arrived, the van driver continued his journey, and she was none the wiser about his identity.
But that afternoon she took to Facebook to try and track him down. "I broke down on the M25 today in an area with no hard shoulder. I rushed to get my baby and 4 year old onto the verge while cars and trucks were swerving all around us," she wrote. "An Argos delivery driver pulled behind us using his visible lorry as a way of preventing anyone going into our car... I didn't get his number in all the panic so hopefully this can somehow reach him. He was our hero today."
The people of Facebook obliged, and the post spread like wildfire. It has now been shared almost 20,000 times, and liked by more than 130,000 people. "That is so brave," read one comment, and "a true gent" said another. Some were even concerned that if found, the driver would face disciplinary action for the delay to his schedule. Either way, the search was afoot. The post was picked up by Argos who began looking for more details. "I was completely shocked by the response," Elsey-Kail tells BBC Trending. She hadn't predicted such a huge reaction to the post. Finally, on Tuesday afternoon, the company confirmed that he had been found, and his manager notified. The driver was "overwhelmed with your comments, thank you all" posted a representative of the firm.
So who was the mystery man? We contacted Argos to request an interview, but with no luck. The company tells us he does not want to be named because he is a "shy guy", who wants his act of goodwill to remain anonymous.
Next story: How the "Fifty Shades" social commentary spread across Asia
You can follow BBC Trending on Twitter @BBCtrending.
All our stories are at bbc.com/trending