How Birdman director's speech shocked Mexico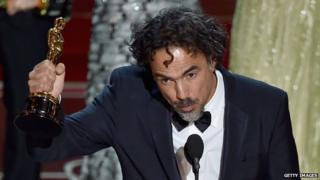 Lots has been written about diversity in the US film industry after last night's Oscars - but across the border in Mexico, the ceremony set off a very different political storm.
After his film Birdman won best picture last night, Mexican director Alejandro Gonzalez Iñarritu took the stage. "I want to dedicate this award to my fellow Mexicans, the ones who live in Mexico," he said. "I pray that we can build the government that we deserve."
Amid the current political unrest in Mexico, his words sparked a pointed discussion online. Thousands tweeted the hashtag #ElGobiernoQueMerecemos which translates as "the government we deserve". Many took it as a message against President Enrique Peña Nieto. "Instead of just thinking about the government we deserve, what if we actually thought about how to create it?" asked journalist Katia D'Artigues.
Over the past few months Mexico has been polarised by the disappearance and alleged mass murder of 43 students from Ayotzinapa, and the President and First Lady have been involved in a scandal over a luxurious private mansion that the couple share. However, for his part, President Peña Nieto offered only congratulations to the director. "Talented Mexicans making history thanks to a life of sacrifices and dedication. Congratulations!" he wrote on his Twitter account.
Iñarritu's speech wasn't the only controversy involving Mexicans from Oscar night. Actor Sean Penn's "green card" joke when introducing the Mexican director was not well received online. "Great job Sean Penn. Ruining a fantastic moment with a green card 'joke'," wrote Mexican actor Mario Lopez.
Blog by Gabriela Torres
Next story: Lego Oscars, #AskHerMore, Meryl Streep
Or maybe you'd like to watch: Coming out as gay at Chinese New Year
You can follow BBC Trending on Twitter @BBCtrending. All our stories are at bbc.com/trending