Zuckerberg's friend request to China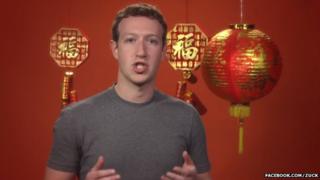 The Facebook CEO's Chinese New Year message in Mandarin got millions of views - but hardly any from inside China where Facebook remains blocked.
For Chinese new year Mark Zuckerberg posted a greeting in the Chinese language. The message has been viewed nearly 4 million times, and been shared more than 36,000 times since 19 February. But few are likely to have come from his intended audience - people inside China.
That's because Facebook has been banned in the country since 2009. It is believed the entrepreneur's efforts to learn Mandarin may be part of a plan to try to reverse that ban. A type of friend request to an entire country.
In October last year he stunned a room full of Beijing university students when he conducted a 30-minute question and answer session on the future of global technology in a near fluent Chinese.
Zuckerberg says he started learning Chinese to communicate better with his wife's family, and gain a better understanding of Chinese culture. But it's unclear if his soft skills will help solve Facebook's problems in China, at a time when it is becoming increasingly difficult for global technology companies to operate in the country.
In the last few weeks there is evidence that Chinese censors have strengthened its firewalls by restricting the use of virtual private networks (VPNs), software used by citizens to visit websites that would otherwise be blocked inside the country. Facebook, Twitter and YouTube are permanently blocked in China. Their absence has led to the rapid growth in popularity of their Chinese equivalents which are heavily monitored by the authorities. Tech experts say the latest stifling of VPNs is part of China's efforts in adopting what is known as "cyber-sovereignty," a concept championed by the Chinese government, where countries attempt to regulate and censor all electronic information within their borders.
China has the largest internet population in the world, with an estimated 650 million users - large enough for China to exist in its own intranet type bubble. Some say that in the long term cyber-sovereignty is not designed to keep web giants like Facebook out but instead a way to ensure that when they ultimately begin operating in China, they adhere to the government's strict rules and censorship.
For now, Mark Zuckerberg's Mandarin skills have yet to be appreciated by Chinese net users. His new year message was retweeted only a few hand full of times on Weibo, China's Twitter like service.
Blog by Danny Vincent
You can follow BBC Trending on Twitter @BBCtrending
All our stories are at bbc.com/trending