Why thousands are standing behind one Muslim lawyer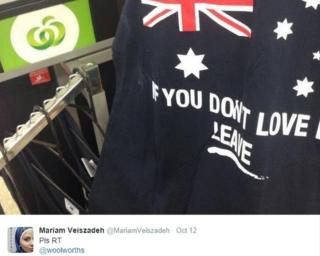 Why are Australians rallying behind one Muslim lawyer? Because she has become the target of racist abuse online from far right groups and white supremacists around the world.
The story starts with a vest on sale at Woolworths. Last year, branches of the Australian retailer began selling a singlet carrying a controversial patriotic message. Underneath a picture of the Australian flag, the caption on the vest read "If you don't love it, leave".
The slogan could be read as a hostile message aimed at immigrant groups in the country, and that's how it was taken by Mariam Veiszadeh. She's a lawyer, and prominent advocate for the Muslim community in Australia. She tweeted a picture of the vest on sale in the shop, saying "I'm outraged that #WOOLWORTHS are allegedly selling these bigoted singlets at their Cairns stores". Her message of anger began to trend online, and the retailer quickly pulled the item in question.
But that wasn't the end of the story. In the months since, Veiszadeh has been subjected to online hate from extremists around the world. It began when the Australian Defence League, a far right group, shared her comments with its 5,000 Facebook fans. One of them - a 22-year-old woman - tracked Veiszadeh down on Facebook where she posted a stream of racist abuse. The incident was reported to the police, and last week the woman was charged with harassment by police in Queensland.
Then on Friday, a US-based white supremacist blog - with a significant following in Australia - stepped into the fray. The Daily Stormer published an article using abusive language about Veiszadeh, and containing a call to action. Here's an extract, edited to remove some offensive terms: "Gentlemen, I think we all know what needs to be done here. Get out your Twitter accounts - make as many as you can... We need to be as hurtful as possible when abusing her, and we need to offend her Moslem sensibilities too."
Right on cue, trolls began tweeting Veiszadeh messages of abuse - and in response she called on her followers to report the offending accounts to Twitter. She herself was one of the first to use the hashtag #IStandWithMariam.
Many of the accounts sending abusive messages now appear to have been been taken down. People in Australia have begun using the hashtag to post messages of goodwill. It has appeared more than 3,000 times in just over two days. "#IStandWithMariam because her gender, religion and politics are irrelevant. #IStandWithMariam because she is a good & decent Australian," wrote one, and "#IStandWithMariam against racism, bigotry, discrimination & Islamophobia. So does Australia," said another.
Blog by Sam Judah
Next story: Christian Mercy for Islamic State
You can follow BBC Trending on Twitter @BBCtrending, and find us on Facebook. All our stories are at bbc.com/trending.