US politician's Instagram feed under fire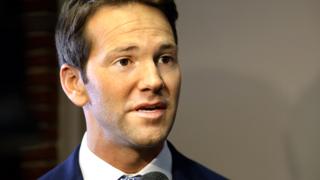 As the first member of the US Congress born in the 1980s, Aaron Schock knows a thing or two about social media.
His 13.8k Instagram followers are treated to pictures of him parasailing in the Andes and hobnobbing with pop celebrities in addition to the more typical political fare like speaking to kids in the classroom and posing with volunteers.
But the images that initially earned the 33-year-old Illinois Congressman the attention of national media outlets like the New York Times - who praised his "popular Instagram persona" - are now landing Schock in hot water.
A new report from the Associated Press (AP) overlaid Instagram's geotargeted data against the Republican's flight records to pin the congressman for more than $40,000 (£28,500) of expenses taken to cover the cost of private flights.
While that is within the rules of Congress to use office funds in this way, it wasn't in 2013, the year investigated by the AP. According to their report:
Lawmakers can use office funds for private flights as long as payments cover their share of the costs. But most of the flights Schock covered with office funds occurred before the House changed its rules in January 2013. The earlier rules prohibited lawmakers from using those accounts to pay for flights on private aircraft, allowing payments only for federally licensed charter and commercial flights.
The AP also found Schock, who already faces an ethics inquiry for another matter, requested more than $18,000 in mileage reimbursements since 2013 - among the highest in Congress. He also charged almost $2,000 to a Political Action Committee (Pac) to take his staff to a Katy Perry concert.
This isn't the first time Schock's spending habits raised eyebrows. Earlier this month, Schock made headlines for his lavishly decorated office. His designer drew inspiration from popular television show Downton Abbey.
Unlike the images of the red-walled, gold-trimmed interior space, the photos the AP used to compile the incriminating information about Schock are no longer available. In the tradition of "post now, delete later" that has come to define a generation of social media users, signs of his jet-setting habits appear to be scrubbed.
Schock did not respond to the BBC's request for comment. In an email to the AP, he wrote that he travels frequently "to stay connected with my constituents" and takes compliance with congressional funding rules seriously.
Blog by Brenna Cammeron
Next story: Thousands stand with Mariam
You can follow BBC Trending on Twitter @BBCtrending, and find us on Facebook. All our stories are at bbc.com/trending.