Egyptian 'icon' trending no more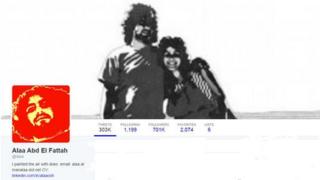 Is the demise of a long-running Egyptian hashtag a sign that public support for the 2011 revolution is waning?
Here at BBC Trending, we usually write about social media trends, or hashtags that are climbing in numbers. This week, when Alaa Abdel Fattah, an activist described as one of the "icons" of the Egyptian revolution in 2011 was sentenced to 5 years behind bars, we expected #FreeAlaa to trend again on Twitter. After all, the @Alaa account has 700,000 followers and the #FreeAlaa tag has surged in popularity whenever he's been in trouble with the authorities before. It was used 30,000 times in the last year (and his name was tweeted 120,000 times).
But this time, it simply didn't take off. Why?
His story in brief: Alaa Abdel Fattah is a blogger and software engineer who was well known - before the 2011 revolution and after - for his bad language and public criticism of religious and military alike. Alaa and his wife Manal (also a blogger) became a revolutionary "power couple" on social media after Egypt's 2011 uprising. His actions have led to charges and imprisonment several times since 2006, under the various governments that have been in since the Arab Spring, and the #FreeAlaa tag trended each time.
Earlier this week, Alaa was convicted of organising a demonstration in 2013 in front of the Shura council (Egypt's upper legislative house) where a group of young Egyptians were protesting against the government's right to try civilians in secret military courts. Protesting without permission has recently been made a criminal offence in Egypt, and he was fined and sentenced to 5 years in prison. The hashtag #FreeAlaa made a modest appearance on social media, used a few thousand times, but didn't really spread outside circles of activists.
The millions of ordinary Egyptians who have been expressing support for protestors on social media for the past several years seemed to be largely indifferent.
The protest outside the Shura council led to 24 others also being charged and sentenced, but their names were not widely shared on social media either. A hashtag about the entire case was also created by activists, but was only shared a few hundred times.
Lack of sympathy
"There is a lack of sympathy in Egypt these days," Nervana Mahmoud, a pro-revolution Egyptian doctor and blogger, told BBC Trending. "Five years ago this would have been a huge event and the reaction would have been very different." She says that after the recent beheading of 21 Egyptian Christians in Libya and militant attacks on Egyptian soil too, Egyptians have become indifferent to arrests of activists by the authorities. "Egyptians don't care anymore, people have lost faith in the revolutionaries, they started to despair of them. Nothing they do will make a difference," she says.
Then there is the way Alaa Abdel Fattah himself conducts himself online. His vocal criticism of President Abdel Fattah al-Sisi, who came in after popular protests against the Muslim Brotherhood, and the harsh language he uses, have cost him many people's sympathy. "For some people he has simply gone too far," Aya Abdallah, social media manager at Al-Masry Al Youm news website, says. Some former supporters of Alaa are now saying that he deserves the verdict, according to comments she has seen. People are expressing that sentiment online: "Every time I start to sympathise with Alaa someone retweets an old tweet of his, and I say he deserves this because he's stupid," one Egyptian man tweeted.
Support for public protestors has not completely disappeared on Egyptian social media. As BBC Trending reported last month, 130,000 people posted messages about Shaimaa el Sabagh's death - she was shot dead in clashes during a march to commemorate the 4th anniversary of the 2011 revolution. "Shaimaa's story was big because she was killed. And the images were strong," says Nervana Mahmoud.
Popular protests against the Muslim Brotherhood in 2013, and support for the military, have also helped change the atmosphere on social media. For each hashtag supporting a pro-revolution protestor, there is often now a pro-government campaign designed to counter it. Kamal Sedra, a digital media consultant and former director of a human rights organization in Egypt, told BBC Trending that this often results in personal criticism, and he says he is growing weary of the online abuse he receives now when he posts about the revolutionary youth. "People have lost faith in the positive change the revolution is able to accomplish realistically".
"The young people who ignited the revolution are either behind bars, killed, banned from travelling or scared of what could happen," he says.
The long-running Egyptian hashtag "The revolution continues" is being kept alive, with 47,000 tweets in the last month, but half of these come from other Arab Spring countries and many come from a relatively small circle of committed social media activists. The wider public don't seem as inspired. "These people may hope that the revolution didn't end but the reality is the revolution has lost the public's support," says Sedra.
In fact, Egyptian social media was buzzing with outrage this week - but not about the imprisonment of activists. A graphic video showing a dog chained to a lamppost while being violently attacked by a group of men in Pyramids street in Cairo was widely shared. An Arabic hashtag that translates to "Pyramids street dog" led to over 25,000 messages to protest the brutal killing of the dog. The Egyptian authorities responded to the public outcry and arrested 3 men suspected of torturing and killing the dog.
Blog by Mai Noman
Next story: Why thousands are standing behind one Muslim lawyer
You can follow BBC Trending on Twitter @BBCtrending, and find us on Facebook. All our stories are at bbc.com/trending.