Facebook challenges legitimacy of some Native names
By BBC Trending
What's popular and why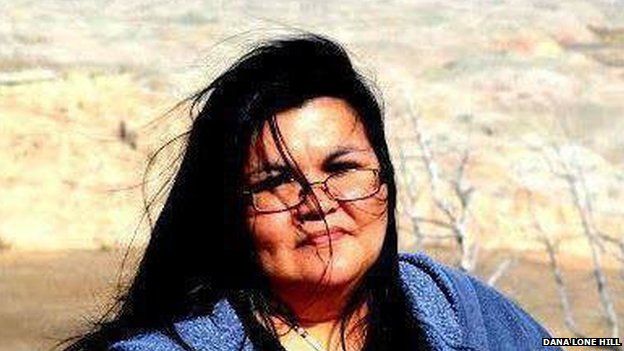 When Lance Browneyes of the Oglala Lakota community in South Dakota was blocked from Facebook for using a "fake" name, he submitted proof of his identification. Facebook then changed his name to Lance Brown.
On Facebook. he called for others who had received similar treatment to come forward, and said he was planning on filing a lawsuit.
Facebook, who declined to comment on the specifics of Browneyes story, has since updated his name.
Others have found their own workarounds.
"I had to send a photo of my passport before I was able to use my name," a woman named Robin Kills The Enemy wrote on Browneyes' post. "Then it got changed again because someone reported it as violent. I was then asked to changed my name to my 'real last name' again. They wouldn't accept my real last name so I had to hyphenate it."
She now goes by Robin Kills-TheEnemy on Facebook.
Users signing onto Facebook for the first time may be blocked if the name doesn't meet Facebook's internal guidelines, which prohibit "words, phrases or nicknames in place of a middle name". Users can also report accounts they suspect to be fake.
Many say the policy is discriminatory.
"This is an interesting and sensitive problem, seeing as names are so closely tied to identity among all peoples," said David C Posthumus, assistant professor of Native American Studies at the University of South Dakota.
"This is especially true of Native names: the more traditional or Native-sounding names are powerful identity markers on and off reservations. They are living links to the past. ... But a legitimate name with an honourable history like Slow Bear or High Elk doesn't fit the almighty Facebook's standards or definitions of what a name should be?"
A Change.org petition with almost 17,000 signatures is calling for Facebook to "allow Native Americans to use their Native names on their profiles."
At the same time, blogger Dana Lone Hill's post on Facebook investigating her name has been shared on Facebook itself more than 6,000 times.
"I had a little bit of paranoia at first … until I realised I wasn't the only Native American this happened to," wrote Lone Hill.
"A few were forced to either smash the two-word last names together or omit one of the two words in the last name."
As part of their policy towards accountability and transparency, Facebook has long taken a stand against pseudonyms. It's a policy that has been criticised in the past by those who want to use different names for the sake of privacy, art or self-expression. But banning real names because they sound fake is a new wrinkle.
In a statement to the BBC, Facebook said:
"We are committed to ensuring that all members of the Facebook community can use the names that they use in real life. Having people use their authentic names makes them more accountable, and also helps us root out accounts created for malicious purposes, like harassment, fraud, impersonation and hate speech."
The statement went on to say there has been an effort to improve the process and that the effort will continue.
Indigenous names, translated to English and taken as a proper name, are not novel or new, says Brian Thom, assistant professor of anthropology at the University of Victoria.
"There is a whole complicated history of reclaiming languages and cultures from the legacies of colonial power which worked so hard to assimilate indigenous peoples," said Thom. "It would be a shame if tech companies - which are often very socially forward - were to replay the old colonial tropes by not accepting these revitalised indigenous name-forms."
On Facebook, Browneyes said that he hopes Native Americans will stand up to enforce change.
"They had no issue with me changing my name to a white man's name, but harassed me and others, forcing us to prove our identity," wrote Browneyes. "Our people need to know they can fight back."